NEWS
The Hills Street Blues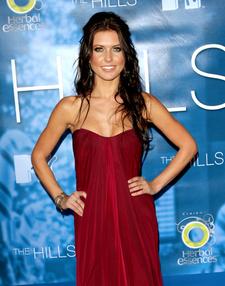 Poor Audrina Patridge!
The Hills star has just posted a blog saying that her home's been ransacked by thieves.
The ditsy pal of Lauren Conrad and Lo Bosworth wrote, "I had a really rough day today - I got home late last night and realized that my house had been robbed.
"It was pretty devastating!
"I spent most of the morning filling out police reports and going through the house room by room making lists of everything that had been taken.
Article continues below advertisement
"Most of the items are replaceable, but they took off with a few very sentimental things too. Definitely not a good way to start the week.
"I'm going to be posting shortly surveillance footage of the intruders with pretty clear shots of their faces."
The video from her home surveillance cameras, which shows the perps breaking in, can be seen at Celebuzz. Audrina hopes the footage will help bring the offenders, one male and one female, to justice.
We're taking bets that the robbers will get their own spin-off, possibly called The Jail.