NEWS
Hines Ward & Kym Johnson Win Mirror Ball Trophy on 'DWTS'!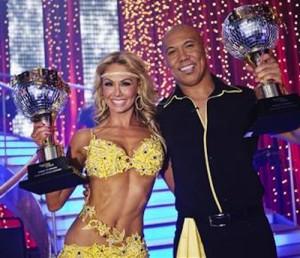 Oh, what a night! Whether it was the Black Eyed Peas performing "Don't Stop the Party" or celebrity cameos of Brandy, Joey Lawrence and Sarah Palin, last night's finale of Dancing With the Stars did not disappoint! And oh, by the way, the winners were crowned, too! Pittsburgh Steelers' Hines Ward and dancing partner Kym Johnson snagged the coveted prize, the ultimate win, the mirror ball trophy!
OK! VIDEO: WATCH HINES WARD & CHELSEA KANE TIE FOR FIRST PLACE ON DANCING WITH THE STARS
Article continues below advertisement
After Hines and Kym performed the samba and he ran over to kiss his mom, perhaps that was an indication of the stellar night to come. Before earning a perfect 10, Carrie Ann Inaba said, "You learned how to lead in the dancing and you lead you partner out of an injury." Len Goodman added, "Dance is the product, what is so appealing about you is the packaging."
As he danced his way into numero uno place, Hines told OK! he didn't go into the finale expecting to win. "No, because anybody was deserving to win this mirror ball trophy tonight."
OK! EXCLUSIVE: KYM JOHNSON'S DWTS DIARY — THE FINAL BLOG OF THE SEASON!
Hines also told reporters after he heard his name, he was concerned about fan votes since Kirstie Alley's popularity soared on the show. "I heard it, but I looked over and I saw Kirstie and I was like, 'Jeez, everybody loves Kirstie.' It had come down to voting. I really didn't know how I would match up to Kirstie. It's the fans. It's definitely the fans."
Article continues below advertisement
Now that he's won the mirror ball trophy, where is he going to put it? "Right next to my MVP trophy in my house," he noted. Perhaps the prize means more to the professional football player because at first he didn't give the show enough respect, thinking it would be pretty easy to do the two step and cha cha cha. "This is grueling," said the star who lost 15 pounds during filming. "I disrespected this show when I first came on. I was like, 'I can do that' but after doing it, it's a lot of hard work that goes into it."
OK! EXCLUSIVE PHOTOS: BEHIND THE SCENES DURING DANCING WITH THE STARS FINAL WEEK!
It also sounds like Hines will take his dancing prowess right onto the football field to do a little tribute to Kym every time he scores from now on. "I'll be doing a tribute to Kym every time I score a touchdown. You will see a DWTS routine somewhere in the end zone."
What did you think about last night's finale? Were you pulling for Kirstie or Chelsea instead? Share your thoughts below!
Reporting by Amanda Champagne