NEWS
Watch Hines Ward & Chelsea Kane Tie for First Place on 'Dancing With the Stars'!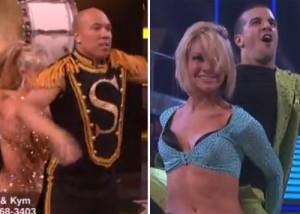 Hines Ward brought the Super Bowl halftime show to Dancing With the Stars and Chelsea Kane made the judges speechless with her freestyle on the final performance episode last night. Both freestyles were so good that Chelsea and Hines each received a 30/30 for their routines. They're now tied for first place on the leaderboard.
Hines and Kym received 29/30 points for their quickstep, followed by a perfect score for the freestyle, which really floored the judges.
Article continues below advertisement
"That wasn't really a halftime show," Carrie Ann Inaba said. "That was the whole damned Super Bowl."
After their performance, Hines expressed that he grew more and more comfortable with the lifts.
"I think we felt good. I felt comfortable grabbing her where I needed to grab her, wherever I needed to hold her," he told reporters. "I started getting higher and higher with the lifts and stuff like that. By then, I felt I had... she was a little baby in my arms."
Article continues below advertisement
Chelsea and Mark took on the samba first, but it was also their freestyle routine that showed off their creativity and energy.
Mark is known for choreographing dynamic, original freestyles that may seem a bit far-fetched to his dance partners.
But Chelsea took on the challenge — which included neon lights, flips and bike tricks — with a smile.
"This was so full-on. It was so much attack. It was fantastic," Len Goodman praised.
Carrie Ann found the routine so jaw-dropping, she couldn't get the words out! Instead, she got out of her seat and expressed her critique in dance.
Then her fellow judges joined in her dance and awarded the pair a perfect 30.
Was Chelsea scared to take on the stunt-filled routine?
Article continues below advertisement
"There's no such thing as crazy in this competition anymore," she told reporters after the show. " 'Oh, you want me to flip upside down and fly around like the Bionic Woman? Yeah!' The further and further you get in this competition, the phrase 'less is more' does not exist anymore. I forget how to do the simplest things, like my makeup; I get ready in the morning for a normal day in rehearsal, and I'm like, 'Should I put on fake lashes?' Because everything is so amplified here."
Chelsea and Mark tied for first place in the judges' scores with Hines and Kym with a 59/60.
Catch their perfect freestyles below!
Hines & Kym's Freestyle
Chelsea & Mark's Freestyle
Reporting by Amanda Champagne