NEWS
Hollie Steel Gives Susan Boyle Tiny Competition!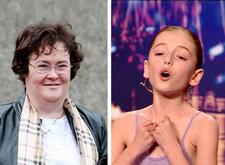 After fans everywhere fell in love with Susan Boyle on Britain's Got Talent, whoever would have thought a teeny 10-year-old in a tutu could give her a run for her money?
Hollie Steel recently wowed judges on the talent competition. After flitting about stage briefly, she opened her mouth and shocked Simon Cowell and the others with her rendition of "I Could've Danced All Night" from My Fair Lady.
And now she's weiging in on her competition telling Extra of Susan, "I like her new look, but I think it looked better before. My advice to Susan would be, 'Don't change your look more because if you change your look you won't be who you are...'"
Article continues below advertisement
And oh, also? May the best woman/girl win!
"My message to Susan is, 'Good luck and I hope I can beat you.' "
Watch Hollie perform below: