NEWS
Holly Madison & Criss Angel Split!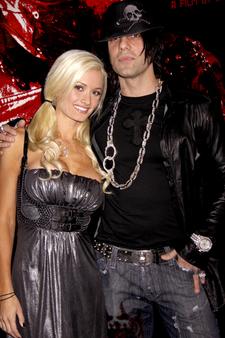 The fairytale bubble has finally burst for former Girl Next Door Holly Madison.
E! News has confirmed that Hef's one-time best girl has split with her magician boyfriend Criss Angel.
The couple had been dating since late last year after Madison moved out of the Playboy Mansion following her breakup with Hugh Hefner.
"She was very much in love with him and they're still very close friends," says a source close to the couple. "But it was a conflict of schedules. She felt she couldn't devote 100% of her time to him in Vegas, at the expense of her own career and her goals."
Article continues below advertisement
Madison, 29, and Angel, 41, had been living together in his Las Vegas home since December, but she has recently moved out and is staying with family.
The source went on to say, "It was a tough decision for her to make, but she wanted pursue her career. She still has very intense feelings for him."
Reps for Madison and Angel couldn't be immediately reached for comment.