NEWS
Holly Robinson Peete Admires 'Cosby' Mom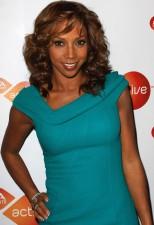 While Celebrity Apprentice star Holly Robinson Peete is busy managing her marriage, family and career, she keeps Cosby Show mom Claire Huxtable on the top of her mind as a role model.
"I loved her strength as a mom, she was a working mom, and I think she really personifies who I strive to be," the mother of four tells me. "I don't always have it together, but in my fantasyland, I'm Claire Huxtable because she had everything. She had a thriving family, put her hand on her hip and everything was all right."
Article continues below advertisement
For Holly, 45, Claire is just the icon she needs to get through the day with twins R.J. (who is autistic) and Ryan Elizabeth, 12, Robinson, 7, and Roman, 5, with husband Rodney, whom she wed in 1995.
The actress coauthored autism kids book My Brother Charlie with daughter Ryan, and maintains that keeping her kids happy involves pleasing their dad. (Rodney's book, Not My Boy!, for parents whose children have autism, is in stores now.)
"You force couples time," she tells me. "You have to schedule it. It takes the sexy out for it to be an appointment, but it's really not sexy if you're divorced. The most important thing is to schedule time. We go to hotels. We're always like, 'ooh, honey, a new hotel is opening. Let's try it out.' So hotels are key, and trying to keep it fresh because we have very little intimate time with four kids. There's always someone knocking on the door or trying to get in our room, so we don't have a lot of intimate moments."
Article continues below advertisement
Together, the pair make quite a team.
"We're yin and yang," she says. "I'm the hare, and he's the tortoise. Slow and steady wins the race for him, and I'm always like 'hurry up, we've gotta move faster.' I'm always behind him, pushing him. I think we have a lot of the same interests, even though we approach things differently, but in the end we know that our partnership is what makes us both strong. Together, we're a good union. I think apart we're not as strong."
She adds, "We've been married for going on 15 years, so I think we've been able to understand that as a union, as a family, that's where we pull a lot of strength from being this family unit. I don't know that we'd be that strong as people if we were apart. Some people need to be apart to be strong, but I think we need to be together to really maximize the things that we have in our life."
Keeping the kids happy includes life with two dogs including Harriet, who is a Newfoundland, and Freddy, who is a Golden Doodle.
Article continues below advertisement
"Harriet is the biggest dog in the world. She's like a Beethoven, Peter Pan dog. We saddle her and ride her every day. Newfoundlands are actually a service dog for autism. The dogs can help kids with autism come out and express themselves a little bit more."
Holly adds, "She's a great dog, and she's really been amazing with our son, with autism. She's been unbelievable with all the kids. They use her as a piece of furniture. They're always in her belly, or laying on top of her, or using her to watch TV. She's an ottoman. The kids are on top of her, so it's fun."
Here's my pic with Holly: