NEWS
Holly Robinson Peete Loves Oxygen Chamber, Juicing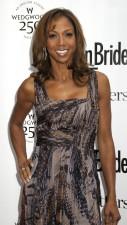 As a busy mom of four married to an ex-NFL player, Holly Robinson Peete takes her free time when she can get it – in the morning.
"You have to force yourself up in the morning before the house wakes up," the actress, 45, who is a celebrity friend to Ronald McDonald House Charities, tells me. "Once everybody gets up and the sun rises and things get going, my timeframe shrinks. The only time for me to get a real workout in is somewhere between 5 and 6. That's not always easy, but it's the best time."
Article continues below advertisement
The former 21 Jump Street star keeps her figure fit through Pilates, cardio and weights. Then, she retreats to her baric oxygen chamber.
"We all laughed at Michael Jackson years ago, but the benefits of pure oxygen are unbelievable," she says. "There's a company called OxyHealth, and they make a portable chamber. We got it because my son RJ had autism, and it's proven great. He's mainstreaming very well, so it's really a blessing because they told us he would never mainstream. We're really lucky knocks on wood to see him doing so well. My husband used it in the NFL for years to recover from surgeries and injuries, but it's also good for chronic fatigue syndrome, aging, all kinds of stuff. I find it completely purifying, so after I work out, I get in the chamber and can listen to music. I absolutely love it. 'If you want to find mommy, I'll be inside my chamber.'"
What is it like?
"It's a long, doughnut-shaped tubular shaped tent. You turn it on, and it fills with oxygen, and gets really hard, and then you have to decompress like you're in an airplane. You lay there for an hour-and-half, and you breathe pure oxygen. It gets into your whole body. You do this for an hour-and-a-half a day for a month, and then you take a break. It has unbelievable benefits. I love being in it. In Japan, it's in every spa, so when you go get a massage, you also get your oxygen treatment. In America, we're a little bit behind with the oxygen treatment – the benefits of pure oxygen."
Article continues below advertisement
She likes to unwind with Stevie Wonder's Don't You Worry About A Thing.
"It's one of those songs that doesn't matter how many times I hear it, it's going to get my day going. The whole thing – don't you worry about a thing, just keep moving."
After she gets her gym time and oxygen chamber excursion, Holly heads to the kitchen.
"I do a lot of fresh juicing – kale, lettuce, spinach – and then I put an apple or some lemon in it," she says. "I find fresh juicing is so beneficial when I can keep it up. It's a lot of work. It's a lot of cleaning the juicer. You put everything in – you put the whole apple, and the whole lemon in, you shove kale in there, and ginger. I have this cocktail every morning. It's called green lemonade, and it's kale, apples, ginger and lemon. I find if I have that every day, I am pretty energetic. It gives me energy, and it cleanses your body. Good old green lemonade."
Holly doesn't live on fruit and vegetables alone.
"I watch what I eat, but I can't ever see beating yourself up for a day where you've just gotta have it," she says. "There are some days when I've gotta have my McDonald's French fries. I've gotta have it, it can't be anybody else's fries, it's gotta be Mickey D's. The fact that my kids love McDonald's, I've gotta drive through the drive-thru and go 'don't do it, don't do it,' and then say to the kids 'can I have some fries?' 'Here you go mom, you can have my fries.' When I do that, I don't beat myself up about it. We should treat ourselves. We should give ourselves a break."
Article continues below advertisement
Her kids -- twins RJ and Ryan Elizabeth, 11, Robinson, 7, and Roman, 4 -- are growing up with a great role model who eats right.
"I eat small meals all day long. A lot of people think if you skip a meal, 'OK, I didn't eat.' Your body has to keep metabolizing all day long, so small meals every few hours is the way to go."
What would she tell her younger self?
"Stop and enjoy everything you're doing because it fleets. It goes really fast. And keep in touch with people who were important in your life. Some of the most amazing connections I ever made were when I was abroad. I spent time in Europe when I was a young teenager, and that was pre-Internet, pre-Twitter, pre-all that, so I lost touch with people. I would say keep in touch with the people who are important to you."
Here's a photo of Holly and I from her visit to the OK! offices. She's incredible.
Holly Robinson Peete donates her time to the Ronald McDonald House as a celebrity friend. During NYC's Fashion Week, she took a RMHC mom out to enjoy the Duckie Brown show. Keep up with Holly's adventures by following her on Twitter @HollyRPeete.