NEWS
Hollywood Has High Hopes for Haiti Telethon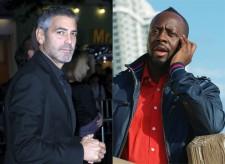 The biggest names in Hollywood are working the phones tonight during the "Hope for Haiti Now" telethon. The live broadcast kicks off at 8 p.m. with Wyclef Jean in NYC, George Clooney in L.A., and CNN's Anderson Cooper reporting from Haiti. The phone lines opened at noon and donors can call 877-99-HAITI to pledge support.
"Hope for Haiti Now" will also accept donations through the Web site, texting "GIVE" to 50555, or mail at Hope For Haiti Now Fund, Entertainment Industry Foundation, 1201 West 5th Street, Suite T-700, Los Angeles, CA 90017.
Article continues below advertisement
High-profile appearances include President Bill Clinton, Ben Stiller, Brad Pitt, Chris Rock, Clint Eastwood, Denzel Washington, Halle Berry, Jon Stewart, Julia Roberts, Leonardo DiCaprio, Matt Damon, Meryl Streep, Morgan Freeman, Nicole Kidman, Robert Pattinson, Samuel L. Jackson, Tom Hanks, and Muhammad Ali.
NYC musical performances include: Wyclef, Madonna, Bruce Springsteen, Jennifer Hudson, Mary J. Blige, Shakira, and Sting.
In L.A., Alicia Keys, Christina Aguilera, Dave Matthews, John Legend, Justin Timberlake, Stevie Wonder, Taylor Swift, Emeline Michel and a group performance by Keith Urban, Kid Rock, and Sheryl Crow will take the stage to show support.
Across the pond in London, Beyoncé, Coldplay, and a group performance by Bono, The Edge, Jay-Z, and Rihanna will rock the world and inspire donations.
"Hope for Haiti Now" will benefit Oxfam America, Partners in Health, the Red Cross, UNICEF, United Nations World Food Programme, Yele Haiti Foundation, and the newly formed Clinton Bush Haiti Foundation. Proceeds from "Hope for Haiti Now" will be split among each organization's individual funds for Haiti earthquake relief.
Article continues below advertisement
"Hope for Haiti Now" will air across all the major networks and will also be live streamed online globally across sites like YouTube, Hulu, MySpace, Facebook, etc.
The massive telethon is produced by Joel Gallen and Tenth Planet Productions, in collaboration with Viacom's MTV Networks and George Clooney.
Here is the whole list of celebrity operators working the phones tonight for donations:
• Ben Affleck
• Tim Allen,
• Jennifer Aniston
• David Archuleta
• Alec Baldwin
• Ellen Barkin
• Drew Barrymore
• Jack Black
• Emily Blunt
• Russell Brand
• Benjamin Bratt
• Pierce Brosnan
• Gerard Butler
• Chevy Chase
• Kristin Chenoweth
• Sacha Baron Cohen
• Common
• Cat Cora
• Bradley Cooper
• Daniel Craig
• Cindy Crawford
• Penelope Cruz
• Billy Crystal
• John Cusack
• Eric Dane
• Ellen DeGeneres
• Fran Drescher
• Michael Clarke Duncan
Article continues below advertisement
• Zac Efron
• Jenna Elfman
• Colin Farrell
• Andy Garcia
• Mel Gibson
• Tyrese Gibson
• Selena Gomez
• Neil Patrick Harris
• Taraji P. Henson
• Dijmon Honsou
• Vanessa Hudgens
• Randy Jackson
• Jimmy Jean-Louis
• Dwayne Johnson
• Nick Jonas
• Kevin Jonas
• Joe Jonas
• Quincy Jones
• Diane Keaton
• Michael Keaton
• Anna Kendrick
• Greg Kinnear
• Jane Krakowski
• John Krasinksi
• Jessica Lange
• Taylor Lautner
• Daniel Day Lewis
• Jared Leto
• Justin Long
• Rose McGowan
• Ewan McGregor
• Toby Maguire
• Ricky Martin
• Katharine McPhee
• Debra Messing
• Alyssa Milano
• Jack Nicholson
• Keke Palmer
• Holly Robinson Peete
• Tyler Perry
• Chris Pine
• Jeremy Piven
• Jeremy Renner
• Tim Robbins
• Ray Romano
• Jeri Ryan
• Meg Ryan
• Zoe Saldana
• Adam Sandler
• Nicole Scherzinger
• Gabourey Sidibe
• Kimora Lee Simmons
• Russell Simmons
• Christian Slater
• Steven Spielberg
Article continues below advertisement
• Molly Sims
• Ringo Starr
• Charlize Theron
• Ashley Tisdale
• Marisa Tomei
• Amber Valleta
• Sofia Vergara
• Mark Wahlberg
• Joe Walsh
• Sigourney Weaver
• Forest Whitaker
• Olivia Wilde
• Rainn Wilson
• Robin Williams
• Reese Witherspoon
• Noah Wyle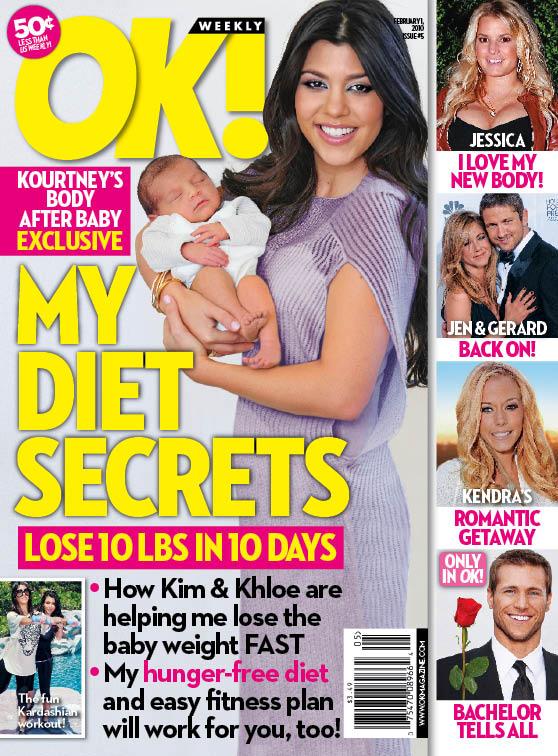 EXCLUSIVELY IN THE NEW ISSUE OF OK!, NEW MOM KOURTNEY KARDASHIAN REVEALS ALL THE DETAILS ON HOW SHE'S SLIMMING DOWN WITH HER HUNGER-FREE DIET AND EXERCISE PLAN!
•ALSO IN OK! THIS WEEK:
Jennifer Aniston: OK! reveals what's really going on with Gerard Butler.
Jessica Simpson: The singer is embracing her curves and revealing that she loves her body!
Haiti: From Wyclef Jean to Angelina Jolie to Lady Gaga, find out how all the stars are doing what they can to help.