NEWS
Hollywood Stars Who Started in Horror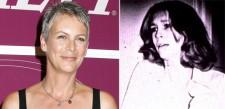 Many of the Halloween classic low-budget horror movies you'll be watching tomorrow starred unknown actors who have now turned into big Hollywood stars. Before they were famous they earned their living by screaming and bleeding for the camera. PopEater has compiled clips of horror movies that launched the careers of some of our favorite actors.
Johnny Depp appeared on screen for the first time in 1984 as Glen in Nightmare on Elm Street.
Article continues below advertisement
Before Kevin Bacon was Kevin Bacon he filmed a gruesome death scene for Friday the 13th in 1980.
Jamie Lee Curtis' screaming role in the classic 1978 horror Halloween helped to make her the star she is today.
Even Tom Hanks has filmed a horror movie when he was just starting his career. The 1980 film He Knows You're Alone allowed Tom to explain to everyone why they should watch horror movies to begin with.
While this one isn't a real horror movie, since it's really a sequel to a spoof of a horror movie, it had to be included. Enjoy a clip of Return of the Killer Tomatoes featuring the 1988 version of the sexiest man in Hollywood, George Clooney.
Look out for more stars make their start as you watch your horror movies this Halloween!