NEWS
Hollywood's Plastic Surgery Tell-All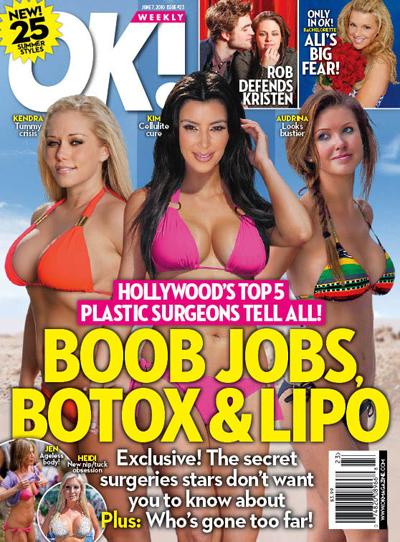 Plastic Surgery Tell All: Five of Hollywood's top plastic surgeons share cosmetic surgery secrets with OK! readers! Has Kendra Wilkinson Baskett had lipo? What does Kim Kardashian do to beat cellulite? Which nip-tuck procedure is Audrina Patridge staying hush-hush about? Plus, which other stars have gone under the knife? And who may have gone too far?
Ali At Home: She had her heart broken by Jake Pavelka on The Bachelor: On the Wings of Love, but now Ali Fedotowsky's back on The Bachelorette, looking for love among 25 new bachelors. OK! takes you inside the mansion where it all goes down and finds out what Ali thinks about Jake, love, and being back where it all began.
Article continues below advertisement
Rob's Heroic Gesture: Their romance continues to be hot and heavy as the two are on tour for the Eclipse premieres, and Robert Pattinson is showing his love for Kristen Stewart in creative — and gallant — ways. Find out how Rob is defending Kristen's honor! Also, news from the set of Rob's new film: Water For Elephants!
Kendra's Betrayal: As Kendra Wilkinson Baskett fights to keep a private sex tape from becoming public, OK! has the inside scoop from a source close to the ex-boyfriend with whom she made the tape, scoop that details the real reason behind the release of the tape — and could Kendra's ex-manager be behind it all too? Plus: Could there be more tapes where Kendra Exposed came from?
Beiber Movie Fever: Millions of adoring fans, hit radio singles, the haircut that's driving boys all over America to their barbershops — Justin Bieber's got it all. Now, some of Hollywood's biggest directors want him in their movies too! OK! shows you what some of your favorite films would have looked like if The Bieb was in them!
Plus: What SJP and Co. wore to the premiere of SATC 2; OK! talks to the winner of The Biggest Loser; John Travolta and Kelly Preston's baby bliss; We've got the stars' prom pictures; The Dancing With the Stars gang hangs out on — and off — the set; How to get SATC 2's exotic Moroccan look at home; Brittany Murphy's husband Simon Monjack passes away; Kelly Bensimon gets the last word!