NEWS
Horoscopes: What's in Your Stars?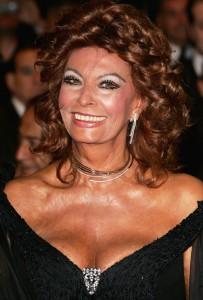 September 20
Today's celeb birthdays
1934: Sophia Loren (77)
1957: Gary Cole (55)
1967: Kristen Johnston (44)
Virgo
Don't be so hard on yourself, Virgo - you know sometimes you can be your own worst enemy. If you're unsure, just ask someone who knows. If you hit the same old problem at work, think laterally. A creative approach unties the knot and earns you credit. Call me to hear when to act on that plan.
Article continues below advertisement
Aries
Whether at home or at work, socially or professionally, it's important you keep everyone in the picture today. Unfortunately, though, there's a danger you could be getting your wires crossed. So double check facts, dates and times to avoid a double-booking or a clash. Call me to hear when to make that commitment.
Taurus
Money and love? Oh Taurus, there's a danger that you'll throw your usual common-sense out of the window today! If you're not careful, cash will go out much faster than it comes in. Romantically, too, you're in two minds. Work brings solace. And so does a chat with a friend. Call me to hear when extra effort gets big results.
Gemini
Get your skates on, Gemini, and roll up your sleeves! Events are putting the pressure on and you have to speed up. Home, family, garden? With so many demands, it's hard to know what to tackle first. Calm returns later in the day. Plan that trip then. Call me to hear when confirmation comes through.
Cancer
You simply don't know whether you're coming or going do you, Cancer? Perhaps it's because you're still physically at a low ebb, deep in reminiscences or just out of sorts. Listen to your instincts and follow your heart. Financially, it's time to get a grip. Call me to hear when to make that purchase for your home.
Article continues below advertisement
Leo
You're a self-motivator, Leo, and new ambition is kicking in. Whether through your own efforts, or because of external factors, your fortunes appear to be on the rise. But you really must be sensible today if a purchase is just out of your reach. Call me to hear when to seek that favorable response.
Libra
You have something special in mind for this evening: a film to watch, a get-together with friends, packing for a holiday or perhaps even better, a romantic date. No wonder, then, that today will drag so slowly. Fill the time by brushing up your skills online. Call me to hear when to organize that event.
Scorpio
Motivator Mars spurring your ambitious drive makes this an ideal time to apply for a different position or to start a new job. At work, move a project on right now before someone changes their mind! Grand ideas for the home are good. Make a start on them tonight. Call me to hear when to make that quiet approach.
Sagittarius
Work, partners, official business: you'll have to be nifty if you want to fit everything in today. The difficulty is getting everyone to agree. But you have a dream and a vision – and a talent for inspiring others. By this evening, you'll have people on your side. Call me to hear when news from afar brings comfort.
Article continues below advertisement
Capricorn
If only, if only. As a realist, Capricorn, you know that all these 'if onlys' are just a waste of time and effort. If a lack of resources is the stumbling block between you and achieving your aspiration, find a way around it. This evening's creative approach is a start. Call me to hear when to make that investment.
Aquarius
There's fire and drive, excitement and passion in your stars Aquarius. But it's what you do with all this energy that matters. Romantically, it could be the tonic you're looking for. Financially, though, you may need to douse the ardor just a little today. Call me to hear when a journey gets the green light.
Pisces
Mars is helping to boost your energy levels. But take care you don't allow over-confidence to run away with you. When it comes to domestic matters, an intuitive brainwave saves the day. Love? You can't afford to let stresses and strains affect your relationship. Draw a line now. Call me to hear when to clinch that deal.
To sign up for OK! Magazine's daily horoscopes on your phone, text the first three letters of your star sign (e.g., SAG) to 63422. Subscription is $2.99 per month billed until you unsubscribe plus message & data rates may apply. Send STOP to 63422 to unsubscribe. Text Help to 63422 for help. Premium charges will be added to your wireless phone bill or deducted from your prepaid account. Subscriber certifies they are the account holder or have account holder's permission. For more info, please visit http://www.okmagazine.com/horoscopes/
Participating carriers include Alltel, AT&T, Boost, Cellular One, Nextel, Sprint, T-Mobile, US Cellular, Verizon Wireless, and Virgin.