NEWS
Horoscopes: What's in Your Stars?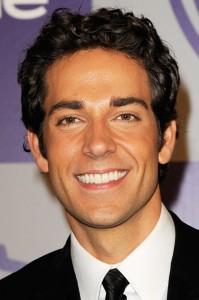 September 29
Today's celeb birthdays
1935: Jerry Lee Lewis (76)
1942: Ian McShane (69)
1948: Bryant Gumbel (63)
1957: Andrew 'Dice' Clay (54)
1980: Zachary Levi (31)
Libra
Encouraging social trends lift your spirits today. Seek out the company of others this morning - working as a team accomplishes more than working alone. Planning changes, refurbishments, DIY to the home? Set yourself a budget and stick to it no matter how tempted to go beyond. Call me to hear when you can safely wriggle out of a commitment.
Article continues below advertisement
Aries
It's a bright, breezy start to the day. If you're romantically inclined, a little flirting peps up your morning nicely! Work matters improve and the boss is impressed with your financial savvy. But get your facts straight otherwise things will go pear-shaped this afternoon. Call me to hear when the stars advise not to start anything new.
Taurus
You're one of the most resourceful people in the Zodiac so if something goes wrong either at home or at work today, you'll know exactly how to put matters right. Don't let a romantic dream be dashed this evening. There's always another way. Call me to hear when you mustn't take any risks.
Gemini
Light-hearted banter, stimulating news or sexy talk first thing starts your day off on a good note. Meetings, errands or children's affairs make for a fast-moving morning. Slow down after lunch otherwise you'll burn yourself out! What's left to do can wait until tomorrow. Call me to hear when you mustn't take your eye off the ball at home.
Cancer
A family, home or property plan fires you with a keen interest. But before you raid the kitty, you must ensure that you've covered all your bases. Gifts, prizes, awards, merits are written in our stars early afternoon. Love, however, may be disappointing later in the day. Call me to hear how to avoid a plan going awry.
Article continues below advertisement
Leo
If you've been waiting for that moment to put your ideas across, this is it. With so much to cover, you won't be wasting any time this morning. Whether it concerns work, health or home, take control. Don't get embroiled in family arguments this evening. Call me to hear when a purchase is a waste of money.
Virgo
Plans and ideas are tumbling through your mind at the rate of knots early morning. Love, romance, holidays, entertainment, pleasure? You have a full agenda and you're determined to go on the attack. Mid afternoon gets tricky so the sooner you act, the better. Call me to hear when you must keep your wits about you.
Scorpio
Take advantage of today's good auspices to make progress at work and, more importantly, to impress the boss. This morning is the best time to get your ideas across. There's a good chance you'll find the backing you want. But, Scorpio, do it quietly, discretely and in confidence. Call me to hear when a certain someone is untrustworthy.
Sagittarius
Whether you're busy traveling or talking, teaching or training, you have a pretty full morning ahead. Looks like you could be dealing with legal, literary, media or advertising affairs, too. When it comes to finances, it's best to keep matters under wraps. Rest up this evening. Call me to hear when an opportunity isn't all it appears.
Article continues below advertisement
Capricorn
Take advantage of this morning's good auspices to air your thoughts, especially if you're involved in high level talks. Official matters, too, benefit from favourable trends. Collective efforts gets the job done by lunch time. Be diplomatic this afternoon to keep the team sweet. Call me to hear when that trip gets postponed.
Aquarius
There's a lot of energy coming from the people around you this morning, Aquarius, and you'll get swept up in their excitement. If there's a chance to travel, best check with the boss first thing. Beware a conflict of interest later on between home and work. Call me to hear when you shouldn't make that investment.
Pisces
Whether you're at the office or rolling up your sleeves at home, it's good to see you're enthusiastically putting in the spadework this morning. It's definitely to your advantage as extra effort brings extra benefits. But chances are you'll get waylaid this afternoon. Beware distractions! Call me to hear when a promise doesn't mean a thing.
To sign up for OK! Magazine's daily horoscopes on your phone, text the first three letters of your star sign (e.g., SAG) to 63422. Subscription is $2.99 per month billed until you unsubscribe plus message & data rates may apply. Send STOP to 63422 to unsubscribe. Text Help to 63422 for help. Premium charges will be added to your wireless phone bill or deducted from your prepaid account. Subscriber certifies they are the account holder or have account holder's permission. For more info, please visit http://www.okmagazine.com/horoscopes/
Participating carriers include Alltel, AT&T, Boost, Cellular One, Nextel, Sprint, T-Mobile, US Cellular, Verizon Wireless, and Virgin.