NEWS
Horsing Around With Bijou Phillips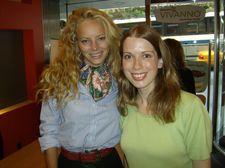 Bijou Phillips finds respite from her glitzy showbiz lifestyle by hanging with her horses in California.
"I have Clover – her show name is Double Cream De Mint – and then I have Olive, and her show name is Sky Blue Indian -- and I have Lexington, and his show name is the Devil Can Do," Bijou tells me.
She spends her time horseback riding.
"I'm at the barn from 4 until about 9:00 at night – riding, turning out, graining," the actress says. "It's a lot of work. It's awesome though. I wouldn't want to do anything else."
Article continues below advertisement
Bijou loves to give them watermelon.
"I'll take a huge watermelon and I'll chop it up," she says. "I'll give my horses watermelon, I'll give them canteloupe, I'll give them honeydew melon, I give them carrots, obviously, apples, celery, and I'll make a huge salad bowl full of tons and tons of fruit. Almost every time I go to see my horses, I bring at least two watermelons. I carry half a watermelon in my hands, and they're shoving their face in it. It takes all my strength to hold the watermelon up, and once they're done with all the inside sweet part, they start eating the rinds. It's a pretty fun, messy time, feeding horses watermelons, but I love it."
In fact, her horses are show quality.
"They all compete," she says. "Clover's a three-day eventer, and Olive is a hunter, and Lexington is hunter-jumper. Jumps pretty good. Olive, she's young, she does a lot of flat stuff. We haven't really started jumping yet."