NEWS
HOT GALLERY: Heidi & Seal Kick it With Their Girls at Karate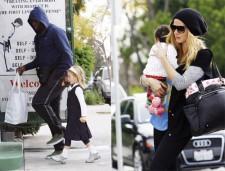 Heidi Klum and Seal spent the day with their little ones yesterday in L.A. Seal took daughter Leni to karate class, and Heidi wasn't far behind with the couple's newest child, adorable Lou Sulola Samuel!
Heidi and Seal are great parents, and despite their work schedules, the couple knows how to make family time a priority!
The hot momma always looks great! Between modeling and motherhood, she stays in shape.
Article continues below advertisement
The supermodel told Regis Philbin and Kelly Ripa that she maintains a healthy lifestyle when it comes to dieting.
"I don't diet. I mean, I do a diet, the diet of my lifestyle," she said to the talk show hosts this morning. "I guess you call it a diet, but I've never done any of those crash diets or all these crazy things that people always write about. I just don't believe in it. I guess also because of my job I have to be a certain fit. Once I started modeling, I've lived a very healthy lifestyle. So I don't eat very fattening food, and I eat right, I guess."
Heidi is also getting her kids involved in physical activity with karate.
Baby Lou is too young but still tagged along with her parents yesterday to support her siblings!
OK! HOT GALLERY: HEIDI KLUM BREAKS THE ICE WITH HER KIDS
What's coming up for the supermodel supermom's career?
Heidi will soon be going digital, appearing on the video-game screens when her Project Runway Nintendo Wii game is released!