NEWS
HOT GALLERY: Reese Witherspoon Grins While Gabbing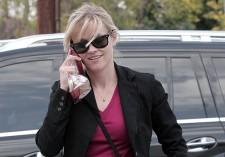 Wonder what she's talking about that's so amusing? Reese Witherspoon sported a big grin while gabbing on her phone in L.A. yesterday, just after leaving a pal's house.
Reese has been spending lots of time with her kids, Ava and Deacon Phillippe, and close friends since breaking up with longtime boyfriend Jake Gyllenhaal.
She also went out on a low-key date recently but doesn't seem to be in a hurry to get into another relationship soon.
Article continues below advertisement