NEWS
HOT GALLERY: Rihanna Shows Off Her Mild Side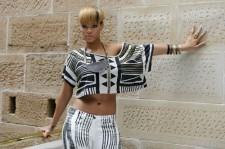 While for anyone else this might be a daring outfit, for fashion-forward Rihanna, this patterned ensemble and smooth hair is a bit meek. RiRi showed off her mild side during a photocall at the Intercontinental Hotel in Sydney on Sunday.
Rihanna got wild with her outfit in South Korea recently — well at least she resembled a wild animal — donning a hooded sweatshirt with ears!
We miss the days of spikes, rips and sky-high hair!
Article continues below advertisement