NEWS
HOT Surprise...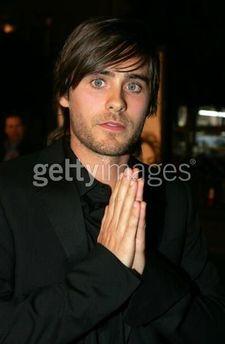 Millions fell in love with the then 23-year-old Jared Leto (and his gorgeous good looks) as Jordan Catalano in My So Called Life– and few of us, like myself, in the not seen enough 1997 film Basil. In the decade plus since Jared's look has morphed from losing dozens of pounds to play a drug-addled character in Requiem for a Dream and gaining double that for Chapter 27. While dedicating the last couple of years to his band 30 Seconds to Mars (the music I love, his guyliner and in need of a shower look that went along with it not as much) Jared looked like he just plain let himself go, growing his hair out, dying it blond and donning disguises that appeared contrived to make himself look like he was trying too hard to not be known as the pretty-boy that he genetically was born to be.
Article continues below advertisement
I'm happy to report that last night I stumbled on my new Louboutin stilettos as I took a double take of vintage Jared Leto emerging from a crowd at a party hosted by Justin Timberlake's new 901 Tequila in a penthouse at the Hotel Roosevelt in LA. Jared's hair was cut short, back to brown, he was fit and looked absolutely fabulous. Jared's comeback should continue with his title role in Mr. Nobody, slated to be released later this summer, and word is he's in the running, against Rob Pattison and James Franco, for the starring role in a biopic of Jeff Buckley's too short life.
I don't think I'm alone in welcoming the resurgence of a bit of beauty in the world ;) xo