NEWS
The Hottest Celeb Homes For Sale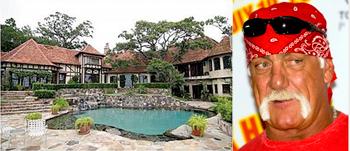 You don't have to be a famous wrestler or a singer to own these magnificent properties.
All you need is a few million dollars in your pocket and you're all set to live the glamorous life in one of these celebrity homes. Of course, deciding whether to buy Hulk Hogan's extravagant estate or Cher's fabulous Malibu mansion can be tricky.
Fortunately, OK! is here to help! Here is a list of the hottest celeb property on the housing market, courtesy of real-estate site Zillow.com. Get your exclusive look and then read all about them on Zillow's blog by clicking on the picture.
Article continues below advertisement
1. Cher is legendary singer and also an interior decorator! After putting up her Malibu home for sale last August Cher decided it was lacking in the decoration department and took it off the market to re-decorate. Now back on the market her re-vamped home is selling for a cool $41 million.
2. Funnyman Ben Stiller may have a crude sense of humor, but his taste in real estate is nothing to laugh at. The actor has recently put up his luxurious 10 bedroom Spanish-style compound on the market for $12.5 million.
3. What does $1,549,000 get you? Well, for that price you can own Christina Ricci's Hollywood Hills home. According to the listing description, the mosaic-tiled pool and lush patio areas are perfect for evening nights entertaining and peaceful weekends vacationing at home.
4. Want to experience the lifestyle that Bernie Madoff once had? Now you can for $8,750,000 million in Madoff's beach house in Montauk. Another good thing about the sale of his former homes is the fact that all the proceeds will go to Bernie Madoff's victims according to cnn.com.
5. Hulk Hogan and his ex-wife Linda had one of the ugliest divorces to date. Left over from their divorce storm is their opulent European-inspired estate they once shared in happier times while filming their reality show Hogan Knows Best. The home is currently on sale for $13,900,000.