NEWS
Housewife Kyle Richards Tells OK! "We Don't Have a Danielle or a Teresa"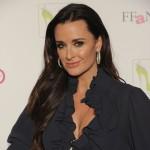 At Wednesday night's QVC Presents "FFANY" Shoes on Sale event, Beverly Hills housewife Kyle Richards told OK! what we can expect from the Real Housewives of Beverly Hills: "There's obviously drama because it wouldn't be the Housewives! Unexpected drama, actually. We are in the entertainment capital of the world. The most famous zip code in the world — 90210. A lot of glamor comes with all that."
OK! GALLERY: HAPPY HOUSEWIVES & HILTONS AT HOLLYWOOD PREMIERE OF BEVERLY HILLS
Article continues below advertisement
"Not only are we in Beverly Hills, which is a brand in itself, but these six women are just very different than any of the other women on the franchises," Kyle tells OK!. "We don't have a Danielle or a Teresa, we're all very, very different than the other shows. "
And did her famous niece Paris Hilton give her any advice before she started filming?
Kyle shared with OK!, "I actually went to Paris. I said 'I'm having so much anxiety with this! This is so much more stressful then I thought it would be.' She just said, 'It will be a fun time in your life, don't feel like that, just go out and be yourself. Don't worry about any other things.' "
OK! NEWS: THE REAL HOUSEWIVES OF BEVERLY HILLS PREMIERES TONIGHT!
Other things the cast did worry about was the marriage of Camille Grammer and Kelsey Grammer.
"During the show, everything was fine at least on the surface," Kyle said. "It started out everything was fine between Kelsey and Camille. I don't think we started realizing until the end that something wasn't right. Right now, Camille and I have gone through a lot on the show. We don't always get along to be honest. I think we're at an okay place now. I think just being in a group with six girls feels very supportive, I think it's been a great diversion for her going through the divorce. Regardless of what we've gone through, as a woman I like to stand by all women."
Kyle also told OK! that she loves all of the other housewives shows. Her daughter even tells her to stop watching! "My daughter, my 2-year-old said, "No housewives, Mommy please, I want Dora, no housewives.' I thought, 'Oh my god, embarrassing she knows I watch Housewives!' "
The Real Housewives of Beverly Hills starts tonight at 10 p.m. ET on Bravo.