NEWS
How Brooke Beat Her Fears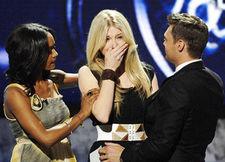 Alone on stage, in front of 25 million of television's most opininated viewers, can't be the easiest place to be for a girl who has battled with insecurity problems her whole life.
Today Brooke White - who, we can reveal, has now stopped crying - told OK! how she has coped with just that tricky little situation.
The former nanny also told us why her elimination hit her so hard, and if Simon made good on his promise to 'bring her over to the dark side'.
Article continues below advertisement
The 24-year-old says that she has always had problems with her confidence, often feeling that she's not as good as the people around her.
"I've had comparison issues my whole life," says Brooke, 24, from Mesa, Az..
"I didn't start singing until I was a teenager, when I was like David Archuleta's age, and I never thought I had a nice voice - it wasn't pretty.
"I thought it was this low, raspy thing and I didn't have a big range and I think I was very intimidated by other singers - and especially on American Idol when it's so focussed on singers.
"I didn't know how well I would do or if I'd survive, and lots of times in rehearsals I'd hear everyone sing and think, 'Wow, how did I get here. These people are amazing', so it was easy to feel intimidated, but I'm learning that everyone is different."
Brooke admitted that, at first, being surrounded by singers like David Archuleta and Carly Smithson made her insecurities worse, but by her final performance she felt she had as much right to be on the stage as anyone.
Article continues below advertisement
"Tuesday I had a re-surge of confidence that I hadn't felt in a long time, a lot of joy, a lot of gratitude for being in that place. It felt great."
Brooke, who was voted into fifth place last night, said that support from her fans helped, as well as advice from the voice coaches.
"We always say that this show brings everything to the surface which might be an issue for you," said Brooke, who has famously forgotten her lyrics and re-started songs on stage twice.
"And that is certainly one of them, but I worked through it and at times I had to work through it in a very public way. It's a very vulnerable position to be in."
But the lesson that she could hardly avoid is that, if she thinks her voice isn't pretty, there's an awful lot of people who disagree.
"Just because you don't think your voice is good enough doesn't mean there aren't people out there who don't appreciate it," she said.
Article continues below advertisement
There's always a lot of tears on elimination night, but Brooke's exit may go down as the most emotional so far. She could barely make it through her farewell performance for the tears!
But what was going through her head before she lost it?
"Everything! I kind of anticipated it in a strange way, in my gut, and I thought I was strong. I felt so graceful and happy and then -- BOOM -- it hit me: this is done, this is over.
"And the finality of that phase of the expereince being over was sad, and then the fear of going back into the real world, and what does the furture hold and also an excitiment and so it was a lot of feelings that I was feeling."
"So, yeah, it was emotional and I had hoped so much that I could have been stronger, but I guess I am an emotional girl and I am passionate and I guess that really came across on the stage because I felt very vulnerable every time."
Article continues below advertisement
Brooke may not have won American Idol, but she did win one battle - with Simon Cowell.
When good-as-gold Brooke told the judges at her audition that she had never seen an R-rated movie, Simon promised her he'd "bring her over to the dark side", and Brooke dared him to try!
But she thinks, on this score at least, she came out on top.
"Last night he joked with me a bit that he thought he might have brought me over to the dark side, and I just said, 'Absolutely not!'
"I have had a lot of support from people to remain the person that I am and I feel like I've been given the support and had the strength to do that."
Maybe Simon isn't quite as powerful as he thinks he is after all!