NEWS
How Danielle Fishel Dropped 30 Lbs.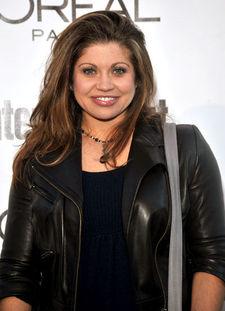 Danielle Fishel is walking lighter these days now that she's dropped 30 lbs.
The Boy Meets World star turned Dish host credits NutriSystem for her weightloss.
"I thoroughly enjoyed doing it last year, and since then I have maintained by learning portion control," the actress, 28, tells me. "That was one of the greatest things NutriSystem taught me. I cook a lot now. I eat 95% of my meals at home. I never eat fast food, I take protein bars with me everywhere, and I make all of my own food. I eat very low-carb and high fiber and a lot of protein."
Article continues below advertisement
She continues, "I make a lot of fish, I love vegetables – so that's a good thing – and then, the working out and the eating well, that allows me – I have a sweet tooth – so that allows me to have a cookie here and there. My mom just baked my favorite – my kryptonite is chocolate chip cookies that my mom bakes that are amazing."
Danielle tells me she spends nine hours a week in the gym, doing cardio for an hour three days a week, and cardio for one hour and weights for another hour three days per week. She builds her workout into her morning, and gets her motivation from her trainer.
"It's my favorite part of my day. It wasn't always my favorite part of my day, but I grew into the lifestyle of working out, and now if I miss a day or I have to skip because of work, I don't feel like my day is complete."
One of her dieting dos is enjoying a cheat meal – but not a cheat day because she can get carried away.
"It's so important to maintaining your overall mental health," she says. "It's easy to know that you only have a week before you can have something that you really want than to know 'I'm never going to be allowed to eat this again.'"
Article continues below advertisement
Her favorite healthy snacks?
"I love my protein bars that I eat. They're called Pure Protein, and they're chocolate peanut butter ones. I put them in the refrigerator so they're really cold, and, to me, they're like my equivalent of having a Snickers, but it's super healthy and low sugar."
Also: La Tortilla Factory's low carb, high-fiber tortillas. "I make wraps with those. That's one of my favorite lunches is to make a salad and have a little turkey wrap."
For Danielle, motivation to lose weight happened gradually.
"It takes awhile once you put weight on to have the ability to say 'all right, I'm cutting everything out and starting over from scratch.' But I just wasn't happy. I was feeling uncomfortable in my clothes and in my skin. When I'm not feeling good about myself, I don't feel like being social. I was wanting to stay home all the time, and there were a lot of friends and family events going on that I didn't feel like going to because I didn't have anything to wear and I didn't feel good about myself. That was the biggest motivating factor for me. And when I don't feel good about the way I look, I tend to be really grumpy without even realizing that that's why."
Article continues below advertisement
How did she feel after she dropped the poundage?
"I felt a-mazing after I lost weight," Danielle says. "You wake up and you feel so much healthier. That's the biggest thing for me. Not even so much the physical appearance of it, it's more the way you feel. That was the biggest upside for me."
Keeping it off is no sweat.
"Once you have the weight off and you feel great about yourself, it's easy to look at something that you're going to eat or look at the gym, and say 'I'm really happy right now with the way I look, so it's not worth it to me to have this cookie or have this cake or skip out on my gym appointment.'"
What slimming secrets can Danielle share?
"No matter what size the tag says, get the size that actually fits you," she says. "Nobody else sees the tag after you've put it on. But dressing in clothes that fit you and that are more fitted – if you feel like you're carrying extra weight, the only thing that makes you look even heavier is wearing bigger, baggier clothes."
She adds, "Having a good tailor will make you look thinner, and dressing appropriately for your age and in a clothing size that actually fits you."
Catch Danielle on The Dish, which airs on Style Network.