NEWS
How Does George Clooney Survive Awards Season? "I Just Drink!"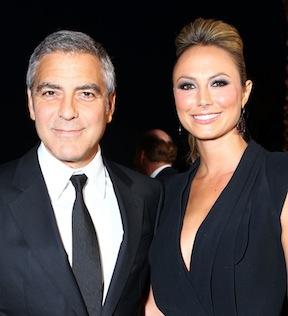 Receiving the Chairman's Award at the Palm Springs International Film Festival last night, George Clooney dished to OK! about being excited to reunite with his pals for awards season and just how the veteran actor, receiving buzz for his work in the Descendants and Ides of March this year, plans to survive the always-chaotic time.
OK! NEWS: GEORGE CLOONEY'S QUICK SPIN IN STUDIO CITY
"I just drink," George laughed to OK! of how to stay sane after the pressure of a big award show and joked, "Drinking and passing out."
Article continues below advertisement
With gorgeous girlfriend and former wrestler Stacy Keibler on his arm, George also revealed the secret to where he lets loose at the end of the night when the flashbulbs turn off.
"We tend to have parties away from where the other parties are because they're a little more fun," the 50-year-old told reporters at the Palm Springs Convention Center, "And usually the after parties are work. So it's fun to go with your friends somewhere and just literally have a drink and have some fun."
OK! NEWS: STACY KEIBLER "HAPPY" TO LIVE IN GEORGE CLOONEY'S PRESENT
While it can be a lot of work for actors to attend big shows such as the Golden Globes or Academy Awards, the Kentucky native is always happy that he gets to reunite with old friends in the process.
"You run into the same group," the Out of Sight star said, "So it's nice. There are a lot of people who are friends. It is a little bit of a fraternity."
So, was George excited to see good pal and Ocean's Eleven co-star Brad Pitt, who also attended the gala on Saturday night with Angelina Jolie?
OK! NEWS: GEORGE CLOONEY JETS OFF FROM AUSTRALIA
"Yes! I hear he's hobbled with a cast on. So I'm going to have some fun," George poked fun of the Tree Of Life star's minor injury.
The Ides of March, also starring Ryan Gosling, received a Golden Globe nomination this year for Best Director – Motion Picture.