NEWS
How Emmy Rossum Gets Pretty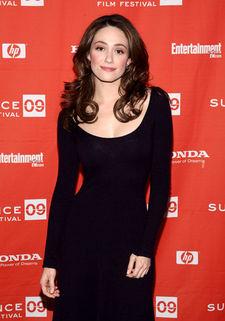 Emmy Rossum admires Cate Blanchett's fashion sense, and channels it for herself.
"I think she's a risk-taker, but she's always about her own style, and I really, really admire that," the actress, 22, says.
For Emmy, wearing silly socks emblazoned with Mickey Mouse or stitched with marbles gives her extra edge.
"I always think it's surprising and exciting to have something under your boots that no one is ever going to see," she says. "It's like your own little secret."
Article continues below advertisement
In the diet department, Emmy has her own strategy.
"I don't eat wheat only because I'm gluten-intolerant, but otherwise I really try to stay away from things that are overly starchy or deep-fried. Otherwise, life is too short not to eat dessert, not to bread, not to eat rice and potatoes. I think if you exercise and are healthy, those kind of things – they're not the devil."
How does she stay toned?
"I like to dance a lot," the NYC native says. "I was a ballerina when I was younger, so I'm back to ballet a little bit. I was kicked off, so I like to run, swim, hike – as long as I can do something that doesn't get boring, I'll do it."
Any beauty tips?
"Moisturize before you put your makeup on, always. It'll make you extra-glowy in the summertime."
And diet tips?
"Never go hungry."