NEWS
How to Get a Dancer's Body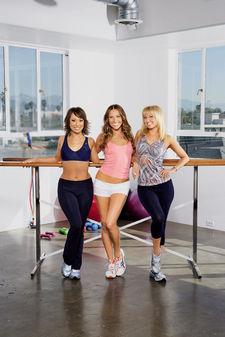 Dancing With the Stars dancers , and have used their athleticism and grace to make their celebrity partners . Cheryl, 23, is a two-time champ of the hit ABC show, with singer Drew Lachey and football great Emmitt Smith. Australia native Kym, 30, led 'Nsync-er Joey Fatone to a second-place finish and surprised fans by making her other dance partners — Jerry Springer and billionaire Mark Cuban — look light on their feet. Poland-born Edyta, 28, is best known for a third-place finish with Joey Lawrence and her sizzling routines last season with soap hunk Cameron Mathison. The DWTS women have to keep their bodies in perfect shape to glide to greatness, and the pressure is on again! This season, Cheryl is teamed with actor Cristián de la Fuente, Kym with illusionist Penn Jillette and Edyta with football player Jason Taylor. As the series heads into its sixth season, OK! met the talented trio to get their diet and exercise tips. Why is dancing such a great workout?Cheryl: You exercise everything, from head to toe. Kym: You're losing weight and burning calories without even realizing it. Dancing benefits your core strength. Edyta: It shapes your butt, waist and legs. There's no better workout! What's in your training schedule besides dancing?
Article continues below advertisement
Kym: When we're doing DWTS, we really don't have a lot of time to do anything but teach our celebrity and do the show, but I try and fit in a Pilates class. I also have my own yoga ball at home, which I think is great to hop on to do some crunches. Edyta: I try to go to the gym about three days a week, and I do mostly cardio, running on the treadmill or the elliptical machine for half an hour. Then I do some exercises like squats and sit-ups. Cheryl: Just dancing on the show and on the DWTS tour. When we're on tour, it's such a workout. It's a two-hour show, and it's about 30 numbers. Since we're at the beginning of the sixth season, right now we're rehearsing four hours a day. It's only going to get more intense.
Do you ever worry about your weight?
Cheryl: When I stop dancing, I do. I have to eat right because I'm not as active. Kym: Yeah. I do have to be aware, especially since I'm getting older. When I was in my early 20s, I could eat anything I wanted. Now I notice a difference. Portion control is my motto, and balancing it with exercise. Edyta: Of course! If someone tells you they can eat anything they want and not exercise, they are either a freak of nature or they're lying. When I was 7 years old, I was teeny but I had a little baby fat, so I would do hundreds of sit-ups every day. I stopped doing it obsessively, but what you do at an early age stays with you and now it's easy for me to work out.
Article continues below advertisement
What's your favorite body part?Cheryl: My back. I always wear low-backed costumes. I guess there's a reason for that! Kym: I like my waist; everyone says I have a really small one. Edyta: My abs. It's like a four-pack laughs. You can see the muscles.
And what's your least favorite body part?
Cheryl: Oh, my lower half. I think it's genetic. My mom has big hips and a big butt. I know that if I didn't dance, my butt would be huge.Kym: Often I hate that I have a butt, but everyone says to embrace it.Edyta: My arms and my legs and my butt laughs.
Who would your dream dance partner be?
Kym: George Clooney is number one. He'd be incredible — very sexy, debonair.Edyta: Johnny Depp has such an interesting personality that I would love to see how he would do. I know he wouldn't be afraid to try things!
What can we expect this season from you and your new partners?
Cheryl: Cristian is very musical and charming. Hopefully, we can last long enough to see what kind of dancer I can mold him into. Kym: I know that we are going to be the funny couple. Penn is like a big teddy bear. He's 6-foot-7, but he's blown me away with how graceful he is. Edyta: Jason is very coordinated, although he says he's only danced twice in his life. He told me that when he goes back to his football team, they're going to tease him like crazy. I think I have to make it sexy so those teammates of his aren't going to say he looks too feminine.
Article continues below advertisement
How do you like your costumes?
Cheryl: I've always loved rhinestones. What really attracted me to dancing were the costumes. I know what looks good on my body and what doesn't. It's important that I feel comfortable in my costumes. Kym: I love the costumes. We come up with the ideas — we go and sit with the designer and tell him exactly what we want for the next week. Sometimes I'll look on the Internet and get some ideas from musicals. Also, I'm all for the fake tan; it defines your muscles.Edyta: I have a lot of input on what I wear. They expose a lot of the body, but I think that's what makes it interesting.
How's your love life? Kym: I don't have a boyfriend. I've been so busy with DWTS. It would be nice to find someone. I'm on the lookout! I'm a bit scared about dating in America because I've heard men can date many women at once. I don't know if I'm into that! Cheryl: I am unattached and happy. I think this her recent split from actor-boyfriend Matthew Lawrence was the best thing for me. I'm single and back on the market, but not ready for a relationship.Edyta: My husband former DWTS dancer Alec Mazo is extremely attractive. He's my best friend. I'd love to have kids, maybe in three or four years.