NEWS
'How I Met Your Mother' Makes a Musical for 100th Episode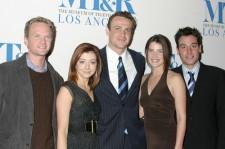 The hit CBS show How I Met Your Mother is about to hit its 100th episode and the cast is making it memorable with a big musical! If it's anything like "You Just Got Slapped," we know it will be a winner!
The 100th episode of HIMYM has Barney, Neil Patrick Harris, burst into song as he tries to decide between Karina, the hot bartender (played by Stacy Keibler), and his suit!
We all know Neil can sing and Jason Segel as well, but those aren't the only cast members who will bursting out in song — they all will! The entire cast will perform the musical number, "Nothing Suits Me Like A Suit," as Barney makes his decision, Entertainment Tonight reports.
Article continues below advertisement
"Barney Stinson has shagged many a type of Betty… many different professions and varieties, but he has never shagged a hot bartender," Neil said. "He has to sleep with her. She, in turn, refuses to date guys who wear suits, from a past relationship. And, so, he takes it upon himself to have to choose between her or suits."
The special musical episode will also feature guest stars Rachel Bilson and Tim Gunn.
"It is kind of surreal," Alyson Hannigan, who plays Lily, explained. "I can't believe we are already here. It seems like it has been too much fun for it to already be at 100."
Too much fun teasing audiences!
Audiences are still dying to know who the "mother" is as Ted, Josh Radnor, continues tell the story about how he met his wife to his children.
"We certainly get more clues about who she is, what she likes, what she reads, what she listens to. All kinds of fun stuff and they come within 10 feet of each other," Josh said. "I am not as impatient as the fans. It doesn't bother me that we haven't seen the mother yet, because when we see the mother, I am worried we will be canceled. We need to delay that as long as we can."
Wouldn't worry too much! A HIMYM musical is sure to be a big hit!
The 100th episode of How I Met Your Mother airs on CBS Monday, Jan. 11 at 8 p.m.