NEWS
How Ivanka Trump Stays Motivated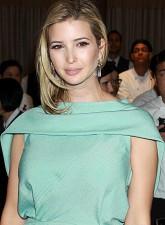 Although Ivanka Trump was born into money thanks to dad Donald and married into money thanks to New York Observer owner hubby Jared Kushner, the Celebrity Apprentice star maintains an impressive work ethic for someone who could easily kick back and relax.
What keeps her motivated?
"I think some of it is innate," the entrepreneur, 28, tells me during the launch of the Trump SoHo New York hotel held April 9. "Are you born a disciplined person? Are you born a person with drive? Obviously some of that develops as you mature, but I also think I'm doing something I love, and I'm passionate about."
Article continues below advertisement
She adds, "I think about people who live more aimless lives, and I think they haven't found that which they're excited to get up and do each morning. I have, and I do, so I consider myself to be very fortunate."
Donald agrees, introducing sons Donald Jr., 32, and Eric, 26.
"This is a great group," he says. "They're talented, young and attractive, but they are my children, so I'm biased."
Ivanka takes a hands-on approach to the hotel.
"I was very involved with is all of the interior design," she tells me. "I worked very closely with Rockwell to assure that each of the spaces were very different. We have an incredible spa that was designed with Turkish, Russian influences. We have an all-marble male and female hamam, which is very exciting. A hamam is a traditional Turkish steam room. They're absolutely works of art. We also have an outdoor pool deck that is gorgeously landscaped and will be a great place to hang out during the summers."
MORE ON:
Red Carpet Confidential
Article continues below advertisement
She continues, "We have a great restaurant, Quattro, that looks very unique in terms of its design within the building, and obviously the rooms themselves. I used a lot of dark purples mixed with beautiful creams and really fun, cutting-edge art. I think the combination came together really well."
What's different about Trump SoHo New York compared to other hotels in the area?
"Our primary motivation was building a five-star hotel downtown, which doesn't exist in terms of the qualities of amenities, the size of the room, the swimming pools, the spas," she explains. "Just the whole structure – we wanted it to be of the highest caliber. But yet, we wanted to fuse that with a very downtown sensibility. That was a fun task for us – creating something that was elegant, glamorous and timeless as opposed to kitschy, but also well-positioned for this market. I think we've done a great job in doing that."
Here's my pic with Ivanka: