NEWS
How Karolina Kurkova Beautifies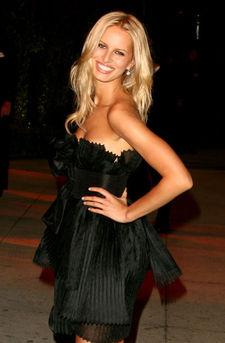 Karolina Kurkova lives a charmed life as one of the Victoria's Secret Angels, but like Kelly Clarkson and Jessica Simpson, she's been criticized for her weight.
How does the supermodel, 25, cope?
"You just have to believe in yourself and know who you are," she tells me in her Czech accent. "It helps to be healthy. At the end of the day, I think that's very important. And be realistic about your body and your body frame."
Article continues below advertisement
Beautifying is her area of expertise. What's her best tip?
"Get sleep," she says. "That's always good. I love to get a massage. Steam – I love to steam, it's really good for your skin, and it just makes you look glowy and more radiant. Just a good workout – a good sweat – is always good. It really makes a difference when you have a good sweat. Your whole face changes. You get pinky cheeks, you just feel better, stronger and sexier because everything is strong and tight. It's important."
As a model, designers depend on her to wear their clothes well. What fashion advice can she share?
"Be true to yourself," Karolina says. "Be realistic about what you love and what you feel comfortable in, because when you're not comfortable in what you wear, you're not going to look amazing because you don't feel amazing. People can sense that. People can feel that you don't feel good in what you're wearing – if you feel awkward – that doesn't make you feel good. Definitely be comfortable in what you wear, be confident in what you wear, and be true to yourself – don't try to look like somebody else because you're special, you're yourself, and you have your own little style. Everyone should have a little style."
The blond beauty can't live without her personal blend of essential oils. Can we buy them? "Not yet," she laughs.