NEWS
How Kate Hudson Got Her Bikini Body Back After Baby!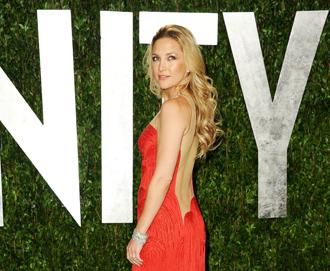 Kate Hudson gave birth nine months ago, but she's already back in killer shape, thanks to an extreme diet and workout regime, a source tells OK!.
"As soon as she got the okay from her doctor to get back in the gym, Kate hit it hard," says one insider. "She wanted to drop all the weight as fast as possible because she was terrified she wouldn't be able to do it."
OK! GALLERY: KATE HUDSON TOTES BABY BINGHAM AROUND NOTTING HILL
Article continues below advertisement
"She gained 60 pounds when she was pregnant the first time, and it was hell for her to lose it. This time she only put on about 35 pounds, but she still had a lot of anxiety about taking it off." Kate, 32, treated her training like it was a part-time job, usually putting in three hours a day, but sometimes stretching her workouts to five hours. When she wasn't breast-feeding her new son Bingham or taking care of his big brother, Ryder, 8, Kate worked out. "She has a full gym at home and Pilates machines, and she had a private yoga lesson every morning for at least an hour," says the source. She also did Pilates every day for an hour and usually some cardio and weight training. OK! NEWS: GOLDIE HAWN RETRACTS WEDDING STATEMENT ON TWITTER: DAUGHTER KATE HUDSON ISN'T MARRIED! "But that wasn't all. Kate loves to salsa dance, and it burns a ton of calories, so she made sure to dance two or three times every week. Another fun dance class she went to was Sheila Kelley S Factor. It's striptease aerobics, and Kate has been doing it for years. She finds it tones her stomach, and she has fun and feels sexy when she does it." Kate made sure to watch her diet. "Kate hates dieting and has struggled with keeping her weight down in the past. But right now she's feeling fantastic and it's all thanks to a lot of hard work and self-discipline."TO FIND OUT MORE ABOUT KATE'S WORKOUT REGIME, PICK UP THE NEW ISSUE OF OK! ON NEWSTANDS NOW!