NEWS
How Katy Perry Deals With Drama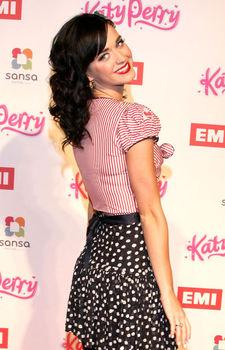 Katy Perry rocked the Grammys with a banana-and-cherry flanked performance of her hit single I Kissed A Girl.
How does she deal with drama -- given her hectic schedule -- when her personal life is imploding?
"I am learning how to meditate," the singer, 24, tells me. "Drama has existed since junior high in my life, and that's just the way the cookie crumbles. I just continue to put one foot in front of the other, I'm extremely focused, and if I'm not, my sister makes sure to keep me focused."
Article continues below advertisement
In December, the California girl split from Gym Class Heroes frontman Travis McCoy, 27, after a year-and-a-half of dating. They exchanged promise rings last summer.
"I'm in love, and I haven't really been this head-over-heels for anyone since third grade," he told me in October. "That's a good feeling. Yeah. My cheeks are tingling."
Still, Katy couldn't be happier with the path her life has taken.
What's the biggest perk of fame?
"The gift lounge," she laughs. "I guess it's not the exact biggest perk, but it's kind of the bigger-picture perk because we get a lot of stuff, and we get to give it back, and in life I think you generally want to do that in your career. You want to leave a Paul Newman legacy, honestly, and – not to sound cheesy – but I get a lot of extra stuff. I know that my girlfriend backstage has a real cracked-out BlackBerry, and I got a new BlackBerry. She's getting it."
Even though Katy didn't take home the Grammy for best female pop vocal performance, she's still in great spirits.
Catch Katy Perry on tour. She performs at In The Venue in Salt Lake City, Utah, on Tuesday.