NEWS
How Lost's Yunjin Stays Fit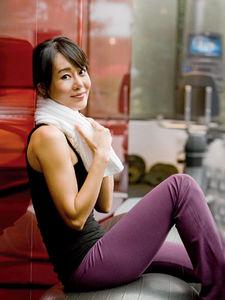 Being stranded on an island, the females of the Lost cast often find themselves in bikini tops and shorts. Yunjin Kim, 34, who plays Sun Kwon, tells OK! how she adjusted to her new life in Hawaii and how she finds time to stay fit.
Do you ever exercise outdoors?
On days off, I usually go swimming in an outdoor pool. Ever since I got to Hawaii, I got tired of doing the same old routine every day. I swim every day for about a half hour. I can see the Aloha Tower clock from the pool so I'll look and say, "I've only been swimming for 25 minutes – I'm going to push myself for five more." It's great to have the clock right there.
Article continues below advertisement
What do you do if it rains?
I get on the treadmill. I usually start off walking to warm up and then I run for 10 minutes, and I slow down and then I got back to running. I have a couple of Pilates tapes at home. I pop the in once in a while to do some stretching. I have one yoga video. It's nice and relaxing—it's great to do it right before you go to bed. I'm going to start taking yoga classes this year. It's on my list of New Year's resolutions.
Are you disciplined with food?
I eat what I want, but I try not to eat anything after 7pm. That's the only diet thing I do. I'm very good about eating breakfast, lunch and dinner. I have some weaknesses—I love chocolate, ice cream and French fries. I get cravings.
Do you eat healthy food on set.
I think everyone eats healthy on set. We're very self-conscious about our body weight. Our bodies are our instruments. We have great catering people. Whatever you ask for, you can get. I don't eat red meat so it's usually chicken or fish for me. There are always tons of great salads.
Is the Lost cast close.
I know it sounds like a cliché, but we're really close. We're like a big family. We've all moved away from our friends and families to do this show. This is our fourth year together, and we still really like hanging out.
What can your fans expect this season?
We shot eight episodes that we are going to air consecutively. We were supposed to air 16 this season. Hopefully, we'll continue shooting once the strike is over. It's going to be an amazing season.