NEWS
How Marcia Gay Harden Avoided 'Oscar Curse'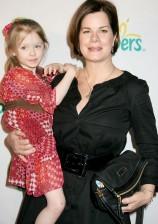 With heartbreak sneaking up on Sandra Bullock, Reese Witherspoon and Halle Berry soon after their Oscar wins, Marcia Gay Harden counts herself among the truly lucky Academy Award winners who avoided the curse.
The 50-year-old actress, who won a best supporting actress Oscar in 2001, has been happily married to Thaddeus Scheel since 1996. Together, they are parents to Eulala, 11, and twins Hudson and Julitta, 5.
Article continues below advertisement
"I don't believe in an Oscar curse," Marcia tells me as lil' Julitta takes a turn on the swings during the Pampers Dry Max launch event held in NYC March 18. "I think Sandra's private life is her private life. Let them solve what they need to solve."
How does she manage to have it all, including a career worthy of an Oscar win, a loving husband and a beautiful family?
"It's hard," she admits. "It's not easy. The balls drop, but we talk. We have conversations, we have therapy, we try to reaffirm what we want to be with each other and for each other with the kids. It's constant work – that's how."
Even though Marcia may be a supermom, she's not afraid to admit she doesn't have all the answers. She is quick to heed useful advice.
"My therapist told us what we had to do is we had to go away to a hotel at least four times a year, and so we are," she reveals. "It's great! You put everything on hold, and you focus on each other. It's much easier to remember the great love you have for each other -- the simple enjoyment of each other. A partner's supposed to make you feel better about yourself because it's more fun to be with them. We have fun together."
Article continues below advertisement
When she and her hubby aren't holed up in a hotel room, she takes control of her household – and relishes the time she spends with her kids.
"I started giving the kids an allowance," she says. "Julitta gets $5, Hudson gets $5 and Eulala is 11, so she gets $11. They have to do chores for it. So I said to Julitta, 'who is the president on the $1 bill?' and she immediately said 'George Washington.' And I said 'who is the president on the $5 bill?' and she said 'mom, that's easy. Neighborham Lincoln. He's part of the neighborhood.'"
In order to earn their keep, the kids work hard.
"They help set the table, they help clear the table, they make their beds in the morning, they help put their clothes away, they hang their towels back up. For each one, it's age-appropriate. They clean up their toys, they'll feed the dog."
Whoa, a dog, too?
"It's an insane, glorious hijacking," Marcia says. "It's a juggle, and the balls drop. The balls drop, and for a long time, I wanted to keep them in the air all the time. Then, I realized they drop, they bounce, you pick it up. It's OK."
Article continues below advertisement
Despite her laidback approach to parenting challenges, Marcia keeps her kids on a tight schedule.
"We have a lights out," she says. "We eat breakfast together every morning, we eat dinner together every night. We don't feed the dog at the table. There's a certain bath time, there's a certain go-to-bedtime. People who have other mothers think I'm strict. The kids stay up too late, but I like to have a regimen that they can follow. I think they need it."
In fact, as soon as Marcia picks up her swag including Pampers Dry Max Cruisers and Liz Lange diaper bag, she and Julissa will greet Eulala around the corner when she finishes her trapeze lessons.
As Eulala, Hudson and Julissa have gotten older, she says their relationship has "deepened."
"It's much more complicated," Marcia explains. "It's much more global to try to always make them more and more aware. And they're far better at arguing than I am. It's like they've all taken debate 192, and they'll win. They're like 'mom, mom, if you really believe that, why do you do this?' OK. 'Do what I say because I said so.'"