NEWS
How Sara Bareilles Copes With Anger Issues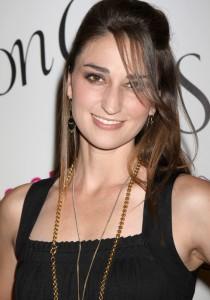 When Sara Bareilles launches a two-month long headlining tour from Portland, Ore., on Sept. 25, she'll be strumming her hit single King of Anything.
WIN TICKETS TO SEE SARA ON TOUR!
The two-time Grammy nominee, 30, relies on her emotions for inspiration.
"King of Anything was a song inspired by getting feedback on my new songs for the first time," she tells me. "Apparently, I got a little defensive, because I came home that day and wrote King of Anything in about and hour-and-a-half. Can anyone say 'anger management issues?' I knew immediately that I wanted that song to be my first single, to continuously remind myself that opinions will come and go, and the important thing is that I love my music and feel proud of what I've accomplished. This song really helps me to do just that."
Article continues below advertisement
How will this tour compare to previous jaunts, when her tune Love Song was all the rage?
"This tour will be different from my last tour because our last tour was a very small, intimate, acoustic tour," she says. "We purposely chose really small venues and did multiple nights in a city instead of just one big show. I am working really closely with a team of people to brainstorm on what will make this show a really special experience for the audience. I want them to come away feeling like we went through something together, and that each night is unique and exciting in it's own way. I'm really looking forward to it!"
Pick up the OK! on newsstands now to find out more about Sara Bareilles. The cover line is "Teen Mom: I'm Broke." And, win tickets to see her in concert on okmagazine.com.