NEWS
How Stars Celebrate Father's Day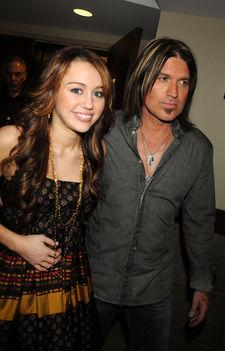 Being a dad changes everything. For one thing, proud papas get a new holiday in Father's Day.
Kirk Cameron reveals his tradition.
"What happens on Father's Day is I'll stay in bed and the kids want me to just hang out there until they can cook breakfast and bring it to me," the Still Growing author, who is father to six kids, tells me. "They make me scrambled eggs, maybe some bacon, maybe some coffee just the way I like it. They bring me cards that they've made at school. The best thing about Father's Day is that you have kids, and you get to love them and enjoy them."
Article continues below advertisement
Billy Ray Cyrus tries to give daughter Miley her space. "I've always tried to be her best friend and that's what I continue to do now," he says. "I'm always there and I'm always a phone call away or a text. She always knows if she needs me, I'm there."
Andrew McCarthy likes everything about being a dad to his Pokemon-loving son – "except getting up early."
Bobby Brown says his two girls got a kick out of his turn as a country singer on CMT's Gone Country.
"Once daddy gets honest with himself, they appreciate me more and more every day," he tells me.
Chris Daughtry's two kids are musical. His son is taking drum lessons, and his daughter is taking piano lessons.
"You have the chance of allowing them or teaching them to do something greater than you," he tells me. "Even be a better dad than you."
Meanwhile, stars including Clay Aiken and Matthew McConaughey are waiting for their first true Father's Day now that the ladies in their lives are expecting. What advice does father-of-two Matthew Fox have for these new dads?
Article continues below advertisement
"Being a father is an individual experience and I wouldn't really feel qualified to give anyone advice other than just trying to do the very, very best job you possibly can," he tells me.
Kyle McLachlan is also infanticipating with wife Desiree.
"We're expecting a little one at the end of July," he tells me. "We're both in New York and L.A., so we're getting both apartments ready for where we're going to be and where he's going to stay."
Indeed, dads hold great power. Just ask Rider Strong.
"I got screwed," he says of his moniker, which he attributes to hippie parents. "I didn't realize I had a porn name until I was fifteen. Too bad. There are worse things."
What's the best advice Robert DeNiro gave daughter Drena?
"Just use your eyes," she tells me. "Don't move your face so much. Use your eyes. That's the most remembered advice."
Snoop Dogg tells children it's important to pay attention to their dads (and moms).
Article continues below advertisement
"Parents are teachers," he tells me. "These are people who have knowledge and wisdom and they're trying to pass it on to you. When they give you that, even if you don't like it or understand it – take it in for what it's worth because one day you'll hear that voice again and you'll be able to make a decision. You can say 'I'm going to do the right thing or the wrong thing, but at least I know what the right thing is and the wrong thing is.'"
Country singer Jason Michael Carroll appreciates the good times with his little ones.
"I take them to school during the week. I'll walk them to class. They think it's cool everyone's running up asking for dad's autograph. I'm soaking it all in because in a few years, I'm pretty sure they'll walk a few steps ahead – or even worse – they'll tell me to wait in the car."
Country singer Darryl Worley enjoys his baby girl, Savannah, who is ten weeks old.
Article continues below advertisement
"She's a little red-headed fireball," he says. "She's already showing her personality. She's gonna have a temper, she's gonna be stubborn. Her mom says she's definitely my child. It's probably the best thing that's happened to me in a lot of different ways. Suddenly I've got a real reason to fight."
Law and Order: SVU star Chris Meloni takes daughter Sophie bike riding and to the playground during the summer. "We play Monopoly," he tells me, whispering, "She cheats."
Sophie shouts, "Do not!"
What's the best thing about Chris as a dad?
"That he loves me," she says shyly, hugging him.