NEWS
How Whoopi Overcame Her Fear of Flying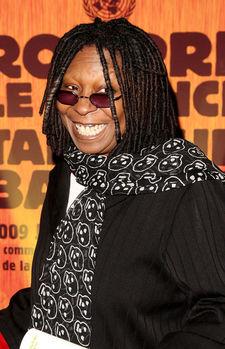 Whoopi Goldberg flew for the first time in thirteen years thanks to Virgin Atlantic's Flying Without Fear program.
In April, the View co-host, 53, ditched the bus she had been riding since 1996 and hopped on a transatlantic flight.
"They have a program over in the U.K., which helps people get over the fear of flying," she tells me during Virgin Atlantic's Red Hot 25th Birthday Party held at NYC's Tribeca Rooftop on Monday. "I thought it was B.S., and then they came, and I did it for four or five hours with them, and went to London to see the first rehearsals for Sister Act."
Article continues below advertisement
How did she get over her flying fears?
"They have a pilot, a psychologist and somebody who's been through the program, and they spend the time with you, and it's really extraordinary, so for the first time in thirteen years, I flew."
Whew! The Oscar-and-Emmy winner once admitted to Jay Leno that it takes 42 hours of nonstop bus travel to get from NYC-L.A.