NEWS
Howard K. Stern's Conviction Gets Tossed in Anna Nicole case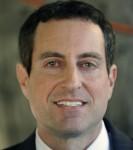 Case closed! After months of the ongoing trial, Howard K. Stern is now completely vindicated. Yesterday afternoon the court reversed two conspiracy convictions when his name was used on prescriptions for Anna Nicole Smith who died from a drug overdose nearly four years ago.
OK! GALLERY: LARRY BIRKHEAD CARRIES SLEEPY DANNIE LYNN
The former friend, confident and lawyer of Anna Nicole told The Associate Press, "I loved Anna and I cared for her so much. I have no regrets." Then, he caught himself and added that he does indeed have regrets based on "what people caused afterward." And by that he meant the legal headaches which emerged after Anna Nicole died.
Article continues below advertisement