NEWS
Howard Stern Compares Charlie Sheen & Glenn Beck: "Who Is More Insane?"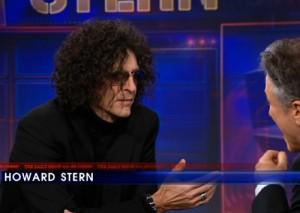 Howard Stern stopped by The Daily Show Monday night to have a little chat with host Jon Stewart. Of course the foul-mouthed, aggressive radio king led the discussion, and it was inevitable that Charlie Sheen became the topic of conversation.
"We have been in touch with Charlie Sheen, and he may call in to my show on Wednesday," Howard said. "It will be two lunatics together."
Article continues below advertisement
Howard continued to dominated the conversation, posing the question to the liberal host: "Who is more insane, Charlie Sheen or Glenn Beck?"(Glenn is the conservative FOX news correspondent, who also doesn't edit his opinions on anything).
Jon held nothing back with his reply: "I'm gonna go with the guy whose skin you could flake off and smoke like crack: I'm going with Charlie Sheen."
"He's in a lunatic rage that..." Jon couldn't even finish his statement.
Jon also asked that Howard relay a message to Charlie when he interview him: "We love you, Charlie. Come home. Be safe."
Catch the funny clip below!