NEWS
Howard Stern's Wife Cuts Sugar, Loses Weight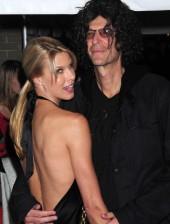 Beth Ostrosky Stern has unlocked the secret to weight loss. Just say no to sugar!
Although her regular routine once included eating 15 Tootsie Rolls before a long run and Swedish Fish, Starburst and Hot Tamales were mainstays in her diet, Beth has noticed a huge difference by nixing it all.
"I decided to cut out all sweets in my diet when I ran the marathon on behalf of North Shore Animal League," the blonde beauty, 37, tells me. "Literally from that moment, my body has completely changed. I dropped six pounds in the first week. I'm doing my training, and I'm eating so much more food. I'm consuming so much more food, and it's real food instead of sweets. I think my body's the best it's ever been."
Article continues below advertisement
She adds, "I'm telling all my friends and everyone who's asking what the secret is … I say cut out sweets and exercise. That's the key."
What does she eat instead?
"Well, now I'm eating real food so I have a lot more energy," she says. "I wake up in the morning and I'll have a bagel. I'll even slather on some butter and peanut butter. And for lunch I'll have a big lunch and a lot of bread, and for dinner I'll have a big pasta dinner. It's food that I never thought I could eat because I thought I would gain the weight, but really it was the sugar that caused any problems. As soon as I cut it out, everything changed for the better."
Beth even cooks healthily for Howard, whom she wed in 2008.
"I like making grilled turkey burgers on the George Foreman grill. Those are my specialty. Howard loves them."
But she has an indulgent side, too.
"For breakfast, I had a bagel slathered with butter with peanut butter on top and a banana with a glass or orange juice. Then I had a triple soy latte at Starbucks. I just had a huge Chinese chicken salad with French fries for lunch. And tonight we're going to have pasta with shrimp and garlic bread."
Article continues below advertisement
Cutting out sweets and losing weight, but eating well? Sounds like a plan!
It certainly works for Beth.
Howard tells me, "I love the way she moves, I love the way she looks, I love the way she is with me. We have a great marriage. We've been married a year, and it's only getting better. I recommend it highly. I recommend marrying Beth highly."
What's the strangest part of being married?
She says, "We're family now. It's not the strangest part, but it's the best part. I highly recommend it to everyone. It's the best decision of my life. I would do it 100 times over with Howard."
Here's a pic of Beth and I: