NEWS
Hugh Hefner Claims Crystal Harris Lied About Their Sex Life on 'Howard Stern'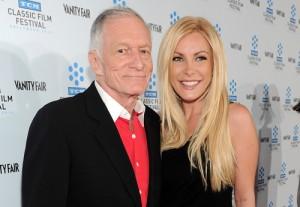 If Crystal Harris thought she could go on The Howard Stern Show yesterday and talk trash about her sex life with Hugh Hefner without any backlash from him, she is in for a surprise. The Playboy mogul took to his Twitter account and called Crystal a liar.
OK! NEWS: CRYSTAL HARRIS DISHES HUGH HEFNER SEX LIFE DETAILS TO HOWARD STERN
Crystal spoke to Howard Stern yesterday and revealed on air that the one time she had sex with Hugh, it lasted "like two seconds."
Article continues below advertisement
"Then I was just over it," she said. "I was like, 'Ahhhh.' I was over it. I just, like, walked away. I'm not turned on by Hef, sorry."
"He doesn't really take off his clothes," she added. "I've never seen Hef naked."
But Hugh says Crystal was lying and went into his own details about their sex life.
"Crystal did a crazy interview with Howard Stern today that didn't have much to do with reality," Hugh Tweeted (via Gossip Cop). "Is she trying to impress a new boyfriend?"
"The sex with Crystal the first night was good enough that I kept her over two more nights," he added. "Crystal lied about our relationship on Howard Stern but I don't know why."
OK! GALLERY: CRYSTAL HARRIS DANCES HER BREAKUP WOES AWAY IN LAS VEGAS
So what did she lie about?
"Crystal convinced me that she adored me," he wrote, as an answer to one fan's question. "That was the first lie."
"When I said, 'I missed a bullet' when Crystal left, I didn't mean I didn't love her," he added. "I meant I realized she really didn't love me."
And while Hugh says he feels sorry for Crystal, he also is happy he has moved on from her.
"I feel sorry for Crystal. She seems lost," Hugh wrote. But he also added, "I'm happy to be in a better place with new girlfriends Anna Sophia Berglund & Shera Bechard."