NEWS
Hugh Hefner Proposes to Crystal Harris on Christmas Eve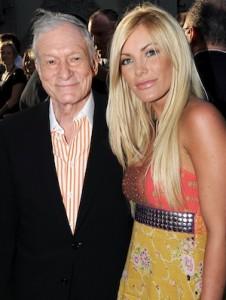 It looks like one of the world's most well known Playboys, Hugh Hefner, is ready to settle down again. The magazine mogul announced on Twitter this week that he popped the question to girlfriend Crystal Harris.
"After the movie tonight, Crystal & I exchanged gifts. I gave Crystal a ring. A truly memorable Christmas Eve," Hugh, 84, explained via Twitter on Dec. 24, "When I gave Crystal the ring, she burst into tears. This is the happiest Christmas weekend in memory."
Article continues below advertisement
"Yes, the ring I gave Crystal is an engagement ring. I didn't mean to make a mystery out of it. A very merry Christmas to all."
This will be Mr. Hefner's third marriage. In 1949, he married Mildred Williams, with whom he had two children, but the couple divorced ten years later. His next marriage was to playmate Kimberley Conrad, which ended in 1998, but wasn't officially finalized until May of this year.