NEWS
Hugh Hefner's Twins Moving Out of the Mansion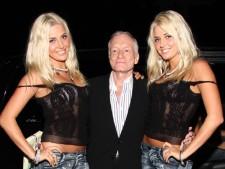 Get the moving trucks ready: Two of Hugh Hefner's three girlfriends, the 20-year-old twins Kristina and Karissa Shannon, are moving out of the mansion. They'll still be close by though — down the street at the Playmate House. So, does this mean Crystal Harris has gotten Hef ready to settle down?
Not exactly.
Hef admits that his relationship with his third girlfriend Crystal has been getting "more serious" while the twins were expressing interesting in doing more promotional Playmate work for the company, E! News reports.
Article continues below advertisement
"They've been hanging out with a lot of the other Playmates and they see these girls traveling across the country to do promotion," he explained about the twins. "They would like to be doing that, too."
So, a deal was made. Hef suggested the girls move into the Playmate house, which will happen in the next couple weeks.
"When they thought about it, they thought it was a good idea," he said. "They will now be friends, but they won't be defined as the girlfriends."
Now that Hef is down to one girlfriend, is there a wedding on the way?
"I haven't had a lot of luck with marriage," he explained. "I don't have a good track record and I don't want to screw this one up."
Although there won't be a big Hef wedding anytime soon, the good news is that Girls Next Door isn't over.
If the E! reality series gets picked up for another season, Hef says we'll see some of the twins work with the Playmates and "how my relationship are changing romantically and how that relates to Crystal."
Sounds like Crystal has worked her magic on Hef!