NEWS
Hugh Jackman's "Privates in a Bag"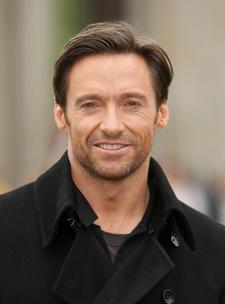 This isn't fair: Hugh Jackman reveals that they shot plenty of naked footage during X-Men Origins: Wolverine, but adoring fans won't ever get to see those extra revealing scenes.
"It's easy to jump off a waterfall naked, but for a PG-13 movie?! It took a lot of choreography!" he tells Entertainment Tonight.
Tease!
Hugh will be the only one from now on to see those racy scenes, as he reveals what he calls, "the greatest wrap present" he's "ever gotten."
Article continues below advertisement
"Our director gave me a small little bag and inside it where about 8 bits of film, all cut. I said that's interesting, then I held it up to the light and I said, 'Ok, now I know why that's in a bag!' Now it's in my safe somewhere. My privates in a bag!"
Double tease!
His son Oscar is learning the moves from his handsome dad, it seems, as Hugh says his offspring uses his dad's fame to get the ladies.
"He said to me the other day, 'Dad, 2 o'clock, hot chick.' He walks over, and I heard him say, 'Hey, my dad's Wolverine,' " Hugh reveals. " That's his opening line. He brings them over and asks, 'Dad, can we have a few autographs for the girls?' I'm like, 'Am I pimping for my kids?'"