NEWS
Hugh's Proud of Kendra, Author Next Door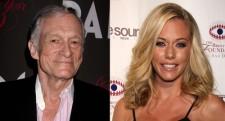 Kendra Wilkinson has experienced the world as one of Hugh Hefner's girlfriends, but when it comes to this blonde bombshell, there's more to her than meets the eye: The ex-Playmate is currently writing her memoir to share her life, and Hugh's already a fan!
"I think its wonderful!" Hugh tells OK!. "I think its going to be popular book, and it's very flattering because I think being here at the Mansion has changed her life completely."
Article continues below advertisement
After spending her last five years living at the Playboy Mansion, the lively blond moved out last year and also started a relationship with professional football player, Hank Baskett, now her husband.
Since moving out on her own, Kendra has said in interviews that she had a bad childhood, which was a result of growing up without a father. Hugh, who is 59 years her senior, could be responsible for playing the paternal figure she needed in her life.
"I didn't really know before the fact," Hugh explains. "It was one of the reasons why her mother was so proud when she moved here, and it worked out."
The newlywed is splitting time between L.A. and new home Indianapolis (her hubby got released from the Philadelphia Eagles and signed with the Indianapolis Colts earlier this month) and is due to give birth to her first child, Hank Baskett IV, this December.