NEWS
Hulk Answers Divorce Petition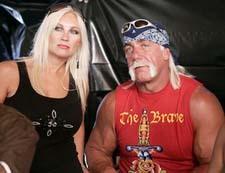 Hulk Hogan filed a petition on Wednesday answering his wife's request for a divorce. In the papers filed with the court, the wrestling legend turned reality star claims his estranged wife, Linda, can support not only herself financially but also their 17-year-old son, Nick. The couple's daughter, Brooke, is 19 and, therefore, legally an adult.
Hulk also says claims Nick is old enough to choose the parent he wants to live with. Linda is currently seeking alimony and child support from the wrestler. She also wants to retain custody of Nick, allowing visitation with his father, and the marital home.
Article continues below advertisement
Hulk's lawyer would only tell the Associated Press, "It's all going to get worked out."