NEWS
Hulk Fires Back at Linda Hogan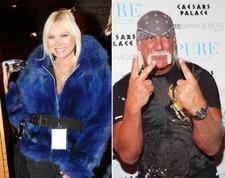 All is not well in the houses of Hogan: After Hulk Hogan challenged his ex-wife Linda Hogan to take a drug test to prove she wasn't partying it up with her 19-year-old boyfriend,
But Hulk's not satisfied, as he released a statement today via his lawyer, David Houston.
The statement reads: "Linda Hogan's drug test is absolutely meaningless without proper tracking and verification. If Linda Hogan wants the world and the courts to believe that this is a valid drug test, she must prove that it was a legally supervised medical test taken at random.
Article continues below advertisement
The document she distributed to the media states that she took a medical test which means that she took a urine test with no verification of urine's source. Anyone can walk into a clinic and take a test, but without supervision we only have her word to go on and that is questionable. If Linda wanted us to believe she was clean, she should have taken advantage of the $100,000 offer by a national radio show for a random legally supervised drug test as opposed to the farce she has perpetrated upon the public."
The Hogans have been embroiled in a bitter, public war of the words for months, and this latest development shows there's no sign of a ceasefire anytime soon.