NEWS
Hulk Hogan Marries Jennifer McDaniel; Cops Called to Ceremony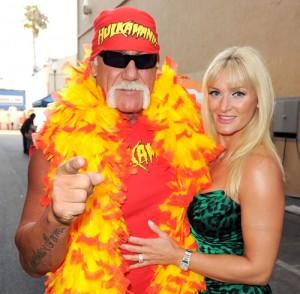 Is it any surprised that Hulk Hogan's wedding would turn into a wrestling ring? The Hulk married girlfriend Jennifer McDaniel Tuesday night in Florida, when a brawl broke out in the middle of the nuptials.
According to TMZ, a photographer was trying to get some pictures of Hulk, 57, and his bride Jennifer, 35, during the ceremony in their backyard — a beach in Clearwater, Fla.
Article continues below advertisement
When a member of the Hulk's camp asked the photog to leave, a beachside brawl allegedly ensued, timed with the couple's vows!
Cops were called to the scene, TMZ reports, but no arrests were made, and the couple continued with their "I do's."
Hulk and ex-wife Linda Hogan finalized their divorce in 2009. They have two children together, Brooke Hogan and Nick Hogan.
Linda, 50, is currently engaged to her 21-year-old boyfriend Charlie Hilland .