NEWS
Hulk Hogan: The Night I Nearly Killed Myself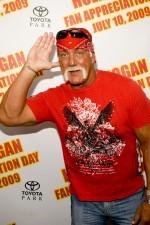 Hulk Hogan was on the brink of committing suicide after downing a cocktail of Xanax and rum, and he even had his finger on the trigger of a gun. But a well-timed phone call from his Gladiators co-star Laila Ali brought him to his senses and saved his life.
The pro-wrestler has opened up about the moment he hit rock bottom in his new memoir, "My Life Outside the Ring" (in stores Oct. 27), which is full of revelations about his dysfunctional family.
Article continues below advertisement
The dad-of-two came "damn close" to killing himself after his divorce from ex-wife Linda Hogan but luckily Laila, who noticed he seemed a bit distracted during filming, phoned him and was able to intervene.
Hulk, 56, blames a combination of "going to a strip club, drinking, getting all that attention from girls" and coming back to an empty home that night in December 2007 for pushing him over the edge.
Plus there was the strain of his separation from his ex-wife of 23 years. "Hell, Linda's spending time with a 19-year-old boyfriend - in the house that I pay for," he writes of her alleged relationship with student Charlie Hill.
In a no-holds-barred book, the wrester-turned-reality star accuses Linda of being an alcoholic who was abusive to their kids, Nick Hogan, 19, and 21-year-old Brooke Hogan, reports the New York Daily News.
Article continues below advertisement
According to Hulk — real name Terry Bollea — he found Linda threatening to beat Nick with a wine bottle in 2007 after the then 17-year-old crashed his dad's Toyota Supra and left his childhood friend John Graziano with permanent brain damage.
The former WWF champ confesses that John's family is bringing a civil suit against him which is "for more money than I've made in my whole career."
In the immediate aftermath of Nick's crash, Hulk revealed that how he pleaded with Linda not to walk out on him, "I practically begged her, 'Please, don't file. Our son's just had this accident - if we do this now, it'll make us look like the Britney Spears family. Please, don't file for divorce.'"
Linda left him, despite the six seasons of Hogan Knows Best that depicted a happy, albeit quirky family.
"In public, we were all having the time of our lives," writes Hulk, "but that public image only further masked the problems that were growing behind the scenes."