NEWS
Hulk Hogan Sides with OJ Simpson?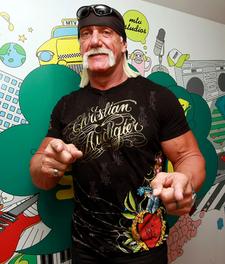 Uh-oh, Hulk Hogan just comitted the ultimate no-no: likening the rage he feels toward soon-to-be ex, Linda Hogan, to that of OJ Simpson.
The former WWF star tells Rolling Stone he understands why Simpson (allegedly) went on a killing spree, violently murdering ex-wife Nicole Brown Simpson and her friend Ronald Goldman in 1994.
"I totally understand OJ," he says. "I get it. I could have turned everything into a crime scene like OJ, cutting everybody's throat."
Article continues below advertisement
Yikes! Them's some fierce fighting words Hulk! But Hogan explains, "You live half a mile from the 20,000-square-foot home you can't go to anymore, you're driving through downtown Clearwater and see a 19-year-old boy driving your Escalade, and you know that a 19-year-old boy is sleeping in your bed, with your wife."
He is referring of course to Linda's new boyfriend, whom he calls "some shaggy haired pool boy 30 years her junior." Linda reportedly forced Hogan out of his $18 million home and started spending his money at the rate of $40,000 a month.
To be expected, the Hulk's rep was in full damage control mode on Wednesday, telling Access Hollywood that Hogan, "in no way condones the OJ Situation."
Hogan and Linda are battling it out in a Florida divorce court, where Linda's attorney claims she's entitled to use the car and that Hogan's claims against her are merely an attempt to control her love life.