NEWS
Hulk Hogan Talks London Riots on BBC Radio: "I'll Body Slam the Youth"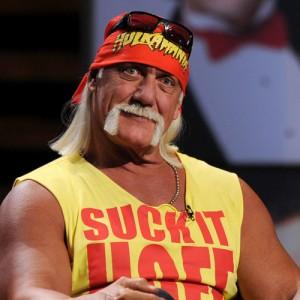 The world's eyes are on London as the riots spread to other UK cities and police presence continues to multiply to try and control the civil unrest in the streets. In a bizarre interview with BBC radio, one of the most unlikely American celebrities offered his take on the current upheaval — pro wrestler Hulk Hogan.
"Y'know, it doesn't really matter if Hulk Hogan's over there bodyslamming all the youth like I did Andre the Giant but, at the end of the day, we need to grab these kids, shake them, and say 'Stop! Regroup! Just look at yourself in the mirror," he said on Richard Bacon's BBC radio show this morning, via Mediaite. "Is this what you want the mirror image of your life to be? Is this what you want your destiny to be?"
Article continues below advertisement
He added, "Now it's time to change directions. Even if the state has to step in and really focus on getting these kids back on track. But, you know what? I will do anything because I love my UK Hulkamaniacs."
The riots unfortunately have a death toll of one, as the danger of the situation continues to rise.
There have been 563 arrests in the riots as of now and 48 police officers have been injured, Scotland Yard's Twitter account reports.
Prime Minister David Cameron, said in a statement, via UK's The Telegraph, "I am determined, the Government is determined that justice will be done and these people will see the consequences of their actions."
Unfortunately, not even the Hulk and his promise to intervene will help the situation.
Listen to his radio interview with Richard Bacon, below.