NEWS
'The Hunger Games' Releases New Emotional TV Spot with Taylor Swift's 'Safe & Sound'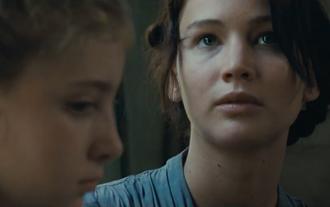 We're not going to lie, this new TV spot for The Hunger Games made us cry! The new, emotional video is set to Taylor Swift's "Safe & Sound" single and includes new images of Katniss Everdeen's (Jennifer Lawrence) relationships with her sister Primrose Everdeen (Willow Shields), best friend Gale Hawthorne (Liam Hemsworth) and Peeta Mellark (Josh Hutcherson).
OK! GALLERY: THE HUNGER GAMES STAR JENNNIFER LAWRENCE STEPS OUT IN BEVERLY HILLS
Article continues below advertisement
The 60-second TV spot shows Katniss preparing Primrose for her first Reaping, which is when a teenage boy and girl are selected from each of twelve districts to compete in The Hunger Games, where they fight to the death until only one survives. Katniss comforts her sister and enjoys one final hunting trip with her best friend Gale before her mother helps her dress for the Reaping.
Primrose is chosen for The Hunger Games, but Katniss volunteers to take her place, and then Gale promises to look out for her family.