NEWS
'The Hunger Games' Star Amandla Stenberg Reacts to Racist Twitter Comments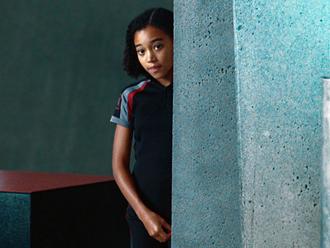 After The Hunger Games opened in theaters this weekend, a handful of people lashed out at the casting of Rue, Thresh and Cinna, posting racist attacks on Twitter concerning the black actors who play the beloved characters.
OK! GALLERY: LIAM HEMSWORTH, ANADLA STENBERG & ALEXANDER LUDWIG ATTEND HUNGER GAMES BOOK SIGNING
One of those actors is 13-year-old Amandla Stenberg, who brought tears to our eyes with her wonderful portrayal of Katniss' (Jennifer Lawrence) ally Rue on the big screen. Instead of getting back at all the haters out there, Amandla took the high road and released a statement regarding the harsh attacks.
Article continues below advertisement
"As a fan of the books, I feel fortunate to be part of The Hunger Games family," Amandla said. "It was an amazing experience; I am proud of the film and my performance. I want to thank all of my fans and the entire Hunger Games community for their support and loyalty."
In Suzanne Collins' novel, Rue is described as having "dark brown skin and eyes." But so-called fans of the trilogy disagree, saying they were disappointed by the casting of Amandla, Dayo Okeniyi as Thresh and Lenny Kravitz as Cinna. Dayo and Lenny have yet to comment on the Twitter scandal involving their characters.
"Why does rue have to be black not gonna lie kinda ruined the movie," one person posted, while another added, "Why did the producer make all the good characters black?"
OK! GALLERY: JENNIFER LAWRENCE & THE HUNGER GAMES CAST BRINGS THE MALL TOUR TO MIAMI
Amandla's Hunger Games co-star Isabelle Fuhrman (Clove) commented on the whole situation, telling E! News, "I think it's just terrible. She's such an amazing actress and she's so sweet. I guess people read things differently and imagine things differently, but I think she was the perfect choice for Rue."